Def Jam 25: Cam'Ron "Come Home With Me"
October 9, 2009 @ 4:08 PM EDT
General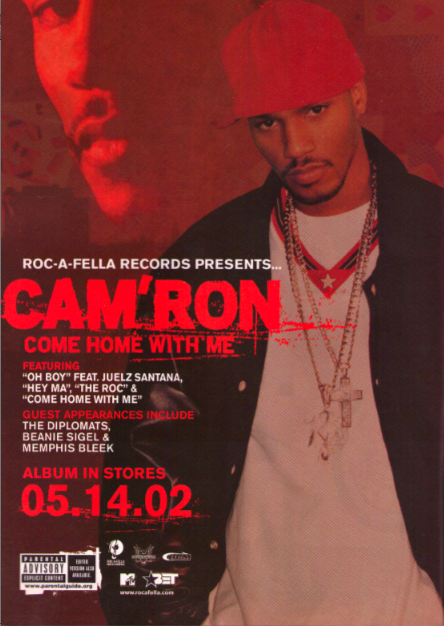 Around the turn of the century, Cam'Ron was at a crossroads in his career. He'd dropped two stellar albums (Confessions of Fire and S.D.E.) and wanted out of his deal with Sony. Enter, Damon Dash. With a Roc-A-Fella chain in one hand and $250,000 in the other, Dame finagled negotiated Cam's release from Epic. Soon after, the newly-christened Roc Boy went to work on his third LP, Come Home With Me.
Released in 2002, the album marked Cam's resurgence to the forefront. Collectively, "Oh Boy" and "Hey Ma" sat on the Billboard charts for 63 weeks and spawned a platinum plaque. Before Jigga was in an empire state of mind, he and Cam rolled out the welcoming mat with "Welcome To New York City".  "The Roc (Just Fire)" was just that, and "Losing Weight Part 2" made me hunger for more.
Before leaving Def Jam for greener pastures on the indie circuit, Cam released Purple Haze and the Diplomatic Immunity compilation. But no matter his contractual bounds, Come Home With Me, will always be where the heart is.
Yesterday: Scarface The Fix