Eminem vs. Rick Ross Sales Battle
July 21, 2010 @ 3:42 PM EDT
General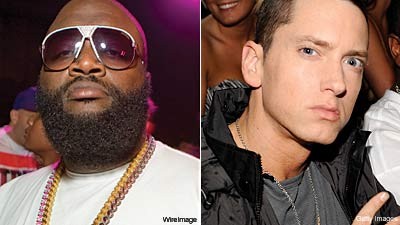 Em has been reigning at the top of the Albums charts for four weeks straight and now he faces a challenge from the Teflon Don. HDD says it's gonna be close. Stay tuned.
Eminem's four-play may well be about to end.

The hip-hop superstar's four straight weeks at #1 with his Shady/Aftermath/ Interscope album Recovery is being threatened this week by Def Jam/IDJ Miami rapper Rick Ross, whose Teflon Don is on target to do between 170-180k in sales.

With placement in Target and Best Buy circulars, Eminem's Recovery, off just 15% this week, is in the early lead, but the outcome is still very much in doubt.