Freddie Gibbs Working On New Album
July 29, 2010 @ 3:24 PM EDT
General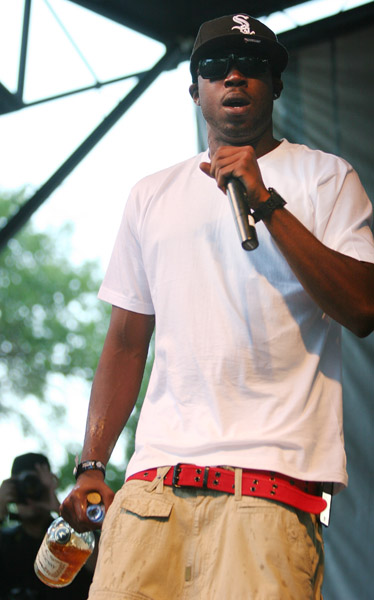 Although Freddie Gibbs is set to drop his new EP Str8 Killa next Tuesday, he's already working on his next project. He gave an entertaining interview with Complex and he revealed that he's prepping his new album entitled, Baby Faced Killa.
Complex: Are you guys doing a full-length album?
Freddie Gibbs: ….That's gonna be my major label project, Baby-Faced Killa.

Complex: So how far along into Baby-Faced Killa are you?
Freddie Gibbs: Shit, probably like three or four records. I did a new record called "Face Down" that's gonna be on the Str8 Killa No Filla mixtape, too. I did a song with Jim Jonsin that came out real hot. The name of that song is "Let It Go." I'm just getting it in with different niggas and turning out some hot shit. I'm probably gonna get back in there with Bun. I just got off the phone with Hi-Tek right before you called. We bout to do some shit. So that Baby-Faced Killa project is gonna be something to talk about. But the Str8 Killa gonna be better than all you niggas' albums. I approach every project the same, like it's a full-length album. Only reason Str8 Killa is an EP is because we just wanna sell it. And we couldn't sell all the records that was on the mixtape.

Complex: Is Devil's Palace gonna be major-label or is that more of a side project?
Freddie Gibbs: I don't know. We're thinking about that, too, how that's gonna come out. That might come out easy. Me and Alchemist might wanna do it ourselves and get that out there real hard. But like I said, I'm working on this Baby-Faced Killa and the Devil's Palace at the same time as Alchemist gives me beats. I'm pretty much gonna do that all-the-way Alchemist. There's probably like eight to ten joints. And the newer records I've been doing, that's probably gonna be for Baby-Faced Killa.

Complex: You met with Dame Dash while you were in New York. Is he gonna be involved at all with your situation?
Freddie Gibbs: We didn't really get into talks with Dame on that level yet. But it's just cool people that we've been working with. We just worked with Ski Beatz. He did a record that I'm probably gonna use for the Baby-Faced Killa project called "Illegal." We're just working man. I definitely would love the opportunity to work with Dame. We had a real good session at DD172, so you know it's still building.