Breakthrough: Lloyd Banks "Banks Victory"
September 2, 2010 @ 2:00 PM EDT
General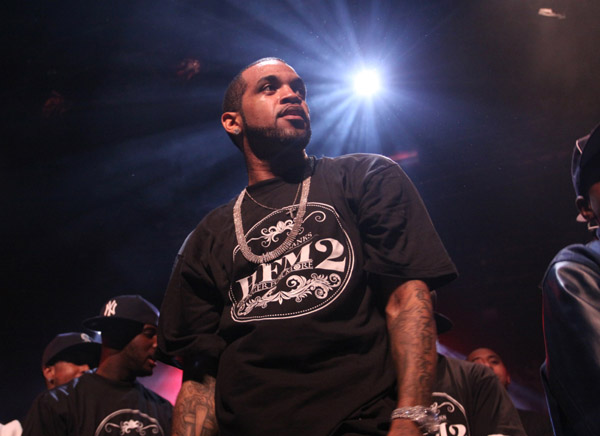 Victorious.
Following Biggie's footsteps is no small task. But back in 2002, Lloyd Banks was up for the challenge. Although the G-Unit lieutenant was introduced on 50 Cent's 50 Cent Is The Future, it was on track five of his follow up No Mercy, No Fear, that left a lasting impression. Over Puff Daddy's "Victory" he ran anchor alá Christopher Wallace with some unforgettable wordplay. With Hunger For More 2 on the way, The Boy Wonder reminisces with Rap Radar on his victory lap.
That has to be overall the most—the biggest freestyle I had as far as impact wise. Even DJ Clue will tell you that's when he felt I went from being a mixtape dude to the next dude they expect to pop from the mixtapes.
I can't remember where I was at when I wrote the verse. I was probably like 19-20 [years old]. I had rapped to [50] in his grandmother house and we started playing around with the intro and by the time we got to Sha Money studio that's how it came about.
It wasn't recorded in a million dollar studio, but the line was clever because of what I was doing at the time. At that time, I was recording the mixtape material in Sha Money basement, but we were flying back and forth to L.A. to Dre studio. So, I was in Em, Dre studio with that mentality, bringing that back to Sha Money studio.
Honestly, I knew what I was following behind. Biggie was one of my favorites. When I did "Victory", everybody knew that was one of his biggest verses. So to fall behind him, I knew there was pressure behind it. I just wanted to add a different feel.
At that time, I was thinking punchline wise. A lot of people used to ask me, "Yo you going to run out before the album," but when I write naturally, I write witty. I write from the perspective of being different. So, that was one thing that never troubled me. There was a few lines [I liked]. I said, "I think I'm the last rapper to scare niggas since Craig Mack." There was even the Master P line and its funny because I have 100 percent support for Master P, but his sneaker was [ugly] at the time. And a lot of people don't know Master P booked a lot of 50 first shows outside in the south. So we went on a 10 tour show with them and I would perform that shit while we were on the tour.
That was the first freestyle I performed. Not only did it help me as far as my recognition goes, but it helped me performance wise cause I got used to being by myself for a whole verse. It's hard to keep people in tuned for a whole verse with no chorus—on a mixtape too. The breakdown toward the end of the verse, is when I learned over time you can't rap the same bar cadence throughout 50 bars you got to at some point change it up.
Puffy called and got 50 on the line and wanted me to be part of the [Ready To Die] album cause they rereleased it. And of course I did it just off the strength [because] that's one of my all time favorites. I put my all into that, bar for bar.
"Banks Victory"
Last Time: Kurupt "Doggy Dogg World"