Bruno Mars, Wiz Khalifa & B.o.B. Cover VIBE
February 11, 2011 @ 10:47 AM EDT
General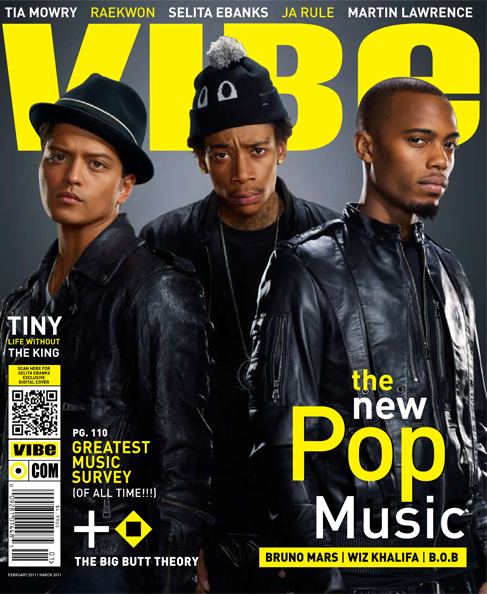 What do Bruno, Wiz and Bobby Ray all have in common? Well besides taking over the charts, the three amigos also cover the latest issue of VIBE. The mag hits newsstands February 22, but for now, check out a few excerpts below.
WIZ KHALIFA: Potheads and hippies, we flock. We're peaceful as hell. You don't hear about my concerts getting shot up or people getting beat up because they was too high and turned into a weed monster.

BRUNO MARS: I'm a fan of young Elvis. And I'm a fan of the story, how he freaked out white America by doing this Black rock'n'roll. He would go onstage shaking his hips, and people were freaking out. They said, "You can't film him from the waist down." To me, that's fucking awesome.

B.o.B: My loyalty is not to any corporation, my loyalty is to the music. That doesn't mean that I don't work with corporations, it doesn't mean that I don't sell music—it just means that first I'm an artist regardless of anything.