R.I.P. Nelson Mandela
December 5, 2013 @ 7:55 PM EDT
General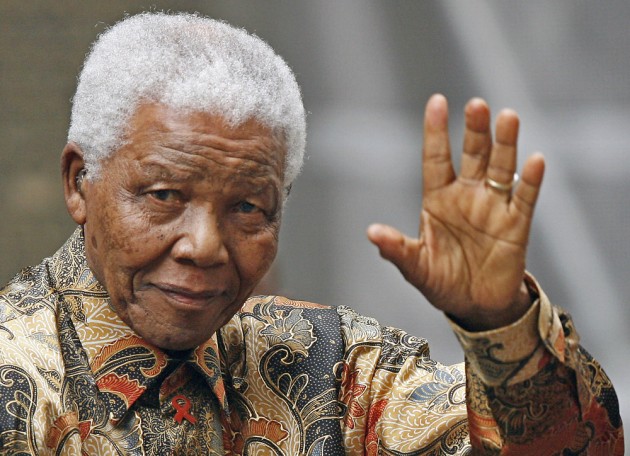 "The Struggle Is My Life"
South African anti-apartheid icon, Nelson Mandela passed away today at his Johannesburg home. He was 95. The Nobel Peace Prize winner, who spend 27 years in prison, lead his country to democracy and became South Africa's first black president. After the tragic news spread across the world, celebrities took to their social network accounts to send their condolences. R.I.P. Madiba
Diddy: This man stood for justice and honor!! Today we lost a beautiful soul, inspiration and a true KING!#RIPMandela
Nas: Thank you Nelson Mandela. All the best on your transition.
Game: I break from my #CeaseFire campaign to honor one of the greatest Leaders of our time in his demise. Nelson Mandela died today at the age of 95 years old. Your legacy will forever be remembered. Rest is Paradise KING.
Kendrick Lamar: Advising all my young ones that follow me to research a small piece of Nelson Mandela Life. That's how you pay your respect…… GO!
LL Cool J: Nelson Mandela. What a difference one person can make. #RestEternally
Russell Simmons: Nelson Mandela was an angel walking on this earth. You were one the greatest teachers this world has ever known. We love you and we miss you
Lauryn Hill: God Bless you Honorable Nelson Madela! May you rest well. With Great Respect, Gratitude and Love!
Talib Kweli: Nelson Mandela did 27 YEARS in jail for his people. Then came out and became president of South Africa. Be great! #ripmadiba
Machine Gun Kelly: Mandela was such a strong revolutionary that even after his death, he's very much alive. may he rest in peace.
LL Cool J: Nelson Mandela. What a difference one person can make. #RestEternally
Busta Rhymes: RIP 2 ONE OF OUR LAST TRULY GREAT KINGS AND GOD OF OUR UNIVERSE, THE LATE GREAT NELSON MANDELA!!! I WILL 4EVER LOVE U GREAT MAN & GREAT MIND
Q-Tip: A true fighter in every sense of the word… MANDELA!
Ludacris: Honored that I had a chance to meet this amazing influential being & to participate in his 46664 Aids benefit concert in South Africa. You will live on thru your work for eternity.
Nicki Minaj: A complete and fulfilled life of a King. We could never repay you for your dedicated, passionate fight against injustice. We enjoy the very liberties you gave your freedom for. Your legacy will never die. Thank you, and may God bless your soul. ***Madaraka kwa watu***
Rick Ross: RIP NELSON MANDELA
Rihanna: One of the greatest men who's ever lived!!! #LegendWe will never forget the things this man has taught us, and we will never truly comprehend the level of strength that it took for him to endure many of his years!! Thank you #Mandela
Beyoncé: Thank you for all you have sacrificed to improve the lives of other human beings. Rest in peace.❤️
R. Kelly: To the Mandela family, may God keep you in perfect peace at this time. For God has chosen a soldier. Mandela R.I.P.
Justin Timberlake: One of our GREATEST leaders… Thank you for BEING the true meaning of compassion. May you be at peace now. #RIPNelsonMandela
The-Dream: So much was Done, so much was Earned I can and will always look up to a King like you! Inspired all of us!
Janelle Monáe: 1 of the most important&greatest individuals to walk on this Earth. Nelson Mandela. He walked the walk. He was 4 THE PEOPLE. Nelson Mandela.
Marsha Ambrosius: R.I.P Nelson Mandela. Prayers and love to all. This great man will be missed NEVER FORGOTTEN!!! A true hero!!!
John Legend: What a heroic, beautiful life Mandela lived. Rest in peace.