Mistah F.A.B. On YG & DJ Mustard Brawl
June 11, 2014 @ 7:58 PM EDT
General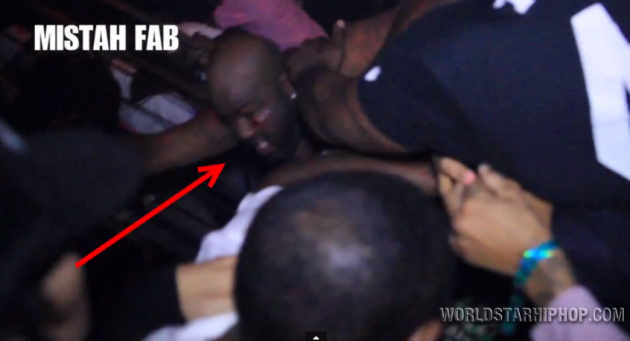 No Flockers. Take A Fade.
It was only matter of time until we got F.A.B.'s side of the story. Earlier today, the Bay Area MC turned to Twitter address the incident between him, YG and DJ Mustard. Hey, you win some, you lose some.
7 niggas get on me & Im still on my feet scrapping by myself and walked out with my dignity and respect I ain't mad. Good ole fist fight and fade now lets move on!!! People and get back to what's important I knew what I was doing walking into that lions den. Fuck guns, fuck jumping niggas, fuck calling real gangstas who bout dat murder game, TAKE A SIMPLE FADE and move on!!! Laugh & live. We move forward get off where u mad at and live with it!! I walked into a venue 3 deep and addressed my issues and death with the outcome. Security what they was pose to do I didn't have no security or bring hella goons I stood and fought like a MAN! Shit niggas don't do no more. I ain't mad!!! Back to the grind #DOPEERA. 
What's funny about the video is watching the Bay Area and Oakland niggas who be acting like we rock together sit and watch that's hilarious. Kids won't understand what being a man is about!! A man disrespects you As a Man U go address that at all cost What does respect mean to U. At the end of the day it could have been worst for both parties I could have came with a murder squad, his security coulda pop shots. Last thing ima say!! STAND FOR WHAT YOU BELIEVE in EVEN IF YOU THE ONLY ONE STANDING!!!!! LETS BE MEN and MOVE ON It's not a BAY vs La thang. FUCK GUNS TAKE A FADE!!! Be a man and Move on!!!! #DOPEERA Laugh about it later
Previously:
The Bay ain't got no love for YG and DJ Mustard? Not quite. On Sunday, the duo were at a club in the Bay Area in which Mustard was assaulted. During the scuffle, rumor had it that he and YG were robbed of their jewelry. Yesterday, the tandem turned to their Instagram accounts to deny the theft. Says Mustard:
Who got robbed last night @yg who got slapped @yg??? Kill the noise !!!! We walked in the same way we walked out !!!! #MKL #10summers !!! Much love to all the real niggas in the bay !!!
YG adds:
STOP WIT THE LIES!!!! NIGGAZ KNOW HOW#THELABEL GET DOWN #DEATHROWRECORDS#RUTHLESSRECORDS TYPE SHITT ….. AYE @djmustard YOU OKAY? , TELL THESE NIGGAZ KNOCK IT OFF #MYKRAZYLIFE ….