Chuck D On 'The Combat Jack Show'
July 15, 2014 @ 12:16 PM EDT
General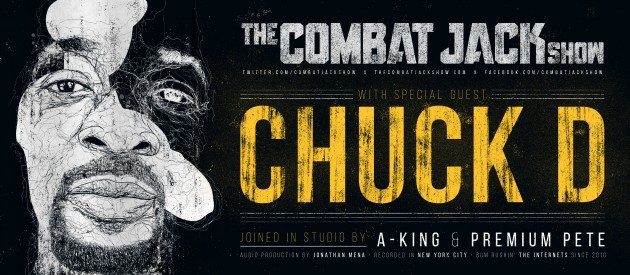 Believe The Hype.Combat Jack finally got his wish and snagged Chuck D for the latest episode of The Combat Jack Show. Along with the Bomb Squad's Keith Shocklee, below is a synopsis of their three hour conversation.
Internets, this is such an honor.
It's been  few years of me trying to get the legendary Chuck D on The Combat Jack Show. It took current events, plus the Freddie Foxxx episode to make this happen (thank you Bumpy!). How do I even describe this 3 hour long discussion with Chuck D and Keith Shocklee? Def Jam, Hot 97, Dr. Dre, N.W.A., Ice Cube, Tupac Shakur, Marley Marl, Flavor Flav, Eric B and Rakim, COINTELPRO, Run-DMC, the Bomb Squad, the dearth of diversity on rap radio… so much knowledge.
What I'm walking away with is how we have the power to control how we're perceived in this culture. And how we have to stop making excuses. Now. Ladies and gents, we present to you, the Episode Without A Pause.