Dizaster vs Math Hoffa At KOTD
July 21, 2014 @ 8:47 PM EDT
General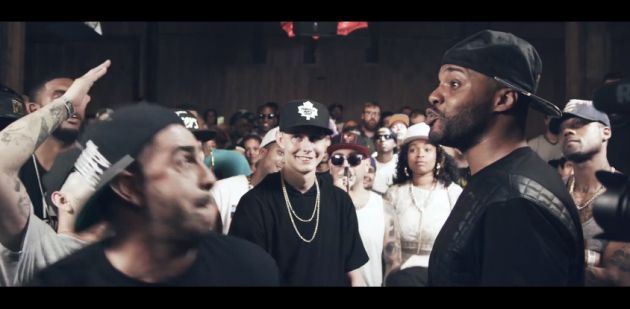 Here We Go Again.
For those who want the bars, here's the official footage of the match between Diz and Hoffa prior to the brawl below. Who knew words could really hurt cha.
Previously: 
Battle rap suffered another black eye last night at King Of The Dot's BOLA5 event in L.A. At the close of Dizaster and Math Hoffa's bout, Diz punched Hoffa in the face. Apparently, Math's been threatening him since 2012. Following the melee, Diz explained himself further via Twitter.
"I squared off with math and dropped him after all the comotion, if he lies his bitch……i fired on him he fell &i landed a gang of punches…Somone has the footage i fucked his ass up nobody was helping me….they saw that shit pussy ass bitchea..,he fuckin dared me i aint a bitch…Footage will come soon i fuckin dropped him and pounded him on the floor solo on everything i love…Hes been doin this to me for 3 years , im sorry i cudnt take it anymore he mentally fucked with me for years…He kept saying u wont do shit i dare u i dare u..,fuck u then u win some u lose some…"
Math is no stranger to confrontation. Last September, he punched Serius Jones at Summer Madness 3. Before then, he clocked Philly rapper, Dose.