YG & DJ Mustard Reconcile
January 1, 2015 @ 8:39 PM EDT
General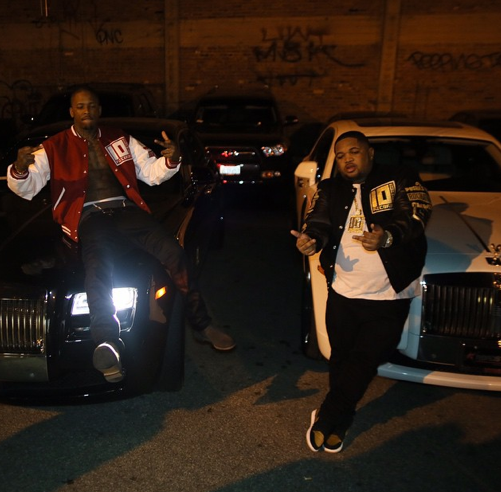 Mustard On The Beef Beat.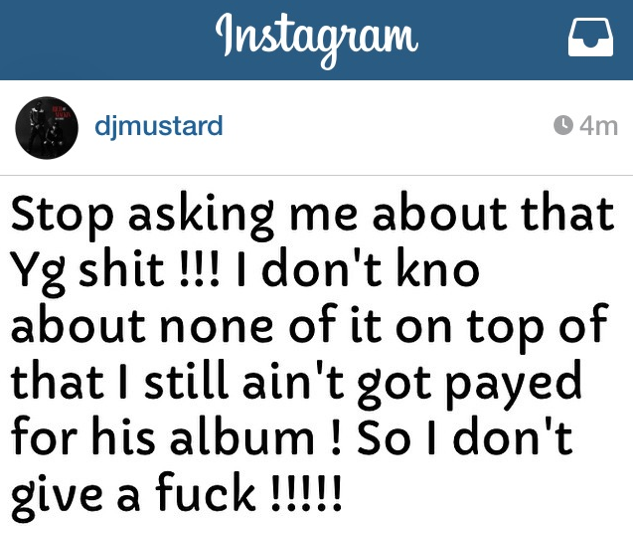 Despite having a banner year, it looks like DJ Mustard and YG are going to end 2014 on a sour note. Earlier, Mustard revealed on Instagram that he hasn't been compensated for his work on YG's debut, My Krazy Life. The rapper screen grabbed the post and responded via his account:
Wait what? @djmustard FUCK YOU NIGGA FUCK EVERYBODY THATT AINT GOT PAID FOR MY ALBUM and DJ MUSTARD I KNOW WHERE YO STUDIO AT NIGGA. & …….. THATS ME SAYIN "MUSTARD ON THE BEAT HOE". YOU AINT NEVER PAID ME FOR THATT OR YO ALBUM NIGGA PIIIIIIRU
Shortly after, Mustard returned fire on his page.
Say no mo I ain't for no sucka shit and this internet shit weak we can get down this won't be the first time …… I'm finna pull up we can squabble up !!! See yo in 30 killa
UPDATE: YG and DJ Mustard aren't bringing the beef into 2015. 3 days later, they make up. Says YG.
Me & bro
@djmustard
squabbled up and got it over wit. 2015 is the takeover 4realz
Bless up Yall.
What ya thought a head up was gone end this ?! Jokes on yall dick heads !!!!