Lil Wayne Returns To EPSN 'First Take'
August 24, 2015 @ 7:59 PM EDT
General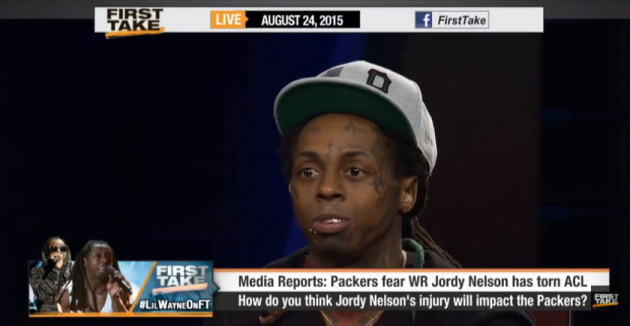 ESPNola.
Lil Wayne was back on ESPN's 'First Take'. This time, he spoke on the Lakers, Kobe Bryant and the NBA's Western Conference. He also touched on Tom Brady's situation, N.W.A., Green Bay Packers and injury of their star wide receiver, Jordy Nelson.
Previously:
Weezy's back. This time, he talks LeBron's return to Cleveland,  Green Bay Packers, LA Lakers, and Drake's $25,000 fine.
Wayne sat at the debate desk again. This time, he talked about last night's Spurs vs. Heat game, LeBron James, and Michael Jordan.
Weezy was back on with Skip and Stephen A. He talked about the NBA MVP and teacher suspension.
Since Weezy was in Connecticut, he returned to ESPN this morning and appeared on 1st & 10 with Skip Bayless. Before talking sports, Wayne spoke on Tha Carter IV and his new mixtape, Sorry 4 The Wait.