Angie Martinez Returns To Breakfast Club
May 12, 2016 @ 10:27 AM EDT
General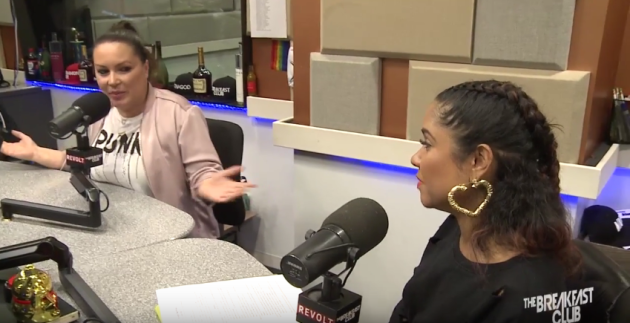 Voices
Angie Martinez was back with her fellow co-workers this morning to plug her book, My Voice: A Memoir. During this discussion she spoke on its creating process, J.Cole's foreword, as well as a few topics including relationships with MJB, Puff, Jay Z, Hot 97, Q-Tip, lost Tupac interview and much more.
Previously:
Angie Martinez was back at her co-workers morning show this morning. Just incase if you didn't tune in, here's what you missed.
The Breakfast Club Interviews co worker Angie Martinez. She speaks on her new cookbook "Healthy Latin Eating," why didn't she perform "Ladies Night" at the Soul Train Awards with Missy, Da Brat, and Lil Kim, beef with Diddy, regretting an interview she did with T.I., and more!!!
Now that Angie Mar is with Power 105, she got better acquainted with her co-workers this morning on The Breakfast Club. While keeping some things under wraps, Angie spoke on leaving Hot 97, reactions, turning down American Idol gig,  unreleased Tupac interviews and more. This chick ain't disloyal.
"It's business and people leave jobs all the time. I'm not disloyal at all. I have always been extremely loyal. I put -I don't know how many years of my life- down for that company. Even the highest of higher ups –which is when I went to make the phone call when I decided to take this amazing offer that I got. They said [executives] you've served this company so well [and for] so many years, I can do nothing but wish you well."