Drake Hosts & Nicki Minaj Performs At NBA Awards 2017
June 26, 2017 @ 10:23 PM EDT
General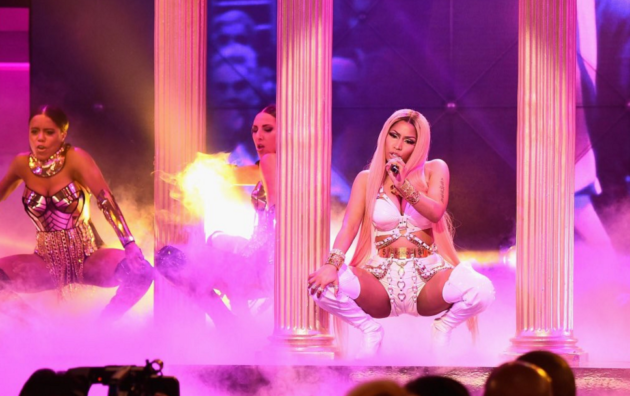 Between The Legs
The National Basketball Association recognized the league's top elite players for their first annual 'NBA Awards'. Hosted by Drake, the event took place this evening at New York City's Pier 36. Those in attendance included 2 Chainz, Fabolous, DJ Clue, Lil Wayne, Nas and more.
Coming off receiving the keys to Queens earlier today, Nicki Minaj served as the awards musical guest. With 2 Chainz providing the assist, your majesty began her set with their collaboration,"Realize". Backed by her tribe, Onika then kept the shots at you know going with "No Frauds" followed by her sassy Katy Perry-feature, "Swish Swish".
While serving as the evening's host, Aubrey provided comedy throughout the evening, roasting players, the NBA on TNT hosts and displayed his acting skills in a series of parodies, which co-starred actor-comedian, Will Ferrell.
The handshake game is strong with @Drake & Will Ferrell 👊

If you're seeing this, it's far from too late. The #NBAAwards are on TNT NOW! pic.twitter.com/yCJYGrC4hX

— NBA on TNT (@NBAonTNT) June 27, 2017
.@Drake coming out 💪 with the jokes! 😂 #NBAAwards pic.twitter.com/9FCUFG0JIb

— NBA on TNT (@NBAonTNT) June 27, 2017
"When you hear the names, Kenny, Ernie, Shaq and Chuck, you think of black excellence… and Ernie." #NBAAwards pic.twitter.com/N0Gx3dB5MK

— NBA on TNT (@NBAonTNT) June 27, 2017
.@TheJetOnTNT couldn't help himself after @Drake's opening at the #NBAAwards 👀 pic.twitter.com/jNq9smFAOo

— NBA on TNT (@NBAonTNT) June 27, 2017
Shots fired at the #NBAAwards

— NBA on TNT (@NBAonTNT) June 27, 2017
If @Drake held a press conference… #NBAAwards pic.twitter.com/kZzRcTonX9

— NBA on TNT (@NBAonTNT) June 27, 2017
.@Drake & @SHAQ mixtape coming soon? 🤔

Get to TNT for the #NBAAwards! pic.twitter.com/1QyFXFmuj9

— NBA on TNT (@NBAonTNT) June 27, 2017
.@Drake not letting up on @TheJetOnTNT at the #NBAAwards… 😂😂😂 pic.twitter.com/fllnWQYQc6

— NBA on TNT (@NBAonTNT) June 27, 2017
.@Drake: "Who's your favorite MVP in NBA history?"@JHarden13: *crickets*#NBAAwards pic.twitter.com/YeXHFHUJJ3

— NBA on TNT (@NBAonTNT) June 27, 2017
"Get Out and Celebrate." @Drake as @StephenCurry30? #NBAAwards pic.twitter.com/7KvLgVBOnq

— NBA on TNT (@NBAonTNT) June 27, 2017
.@Drake x Will Ferrell handshakes Part II features an original you won't want to miss…#NBAAwards pic.twitter.com/Qh8pYxVQng

— NBA on TNT (@NBAonTNT) June 27, 2017