Goodie Mob's Creative Loafing Cover
September 16, 2009 @ 3:56 PM EDT
General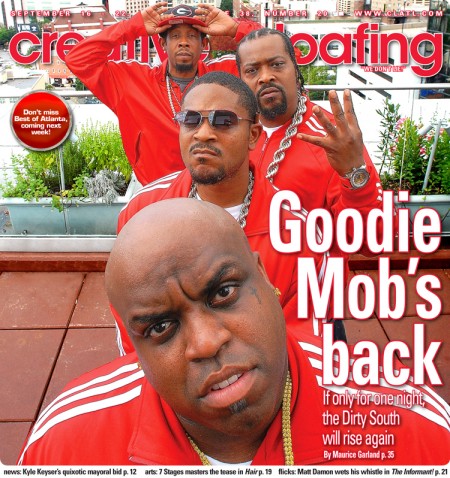 This looks and feels right. The homie Maurice Garland kicked it with Cee-Lo and his reunited buddies to hype up the big show which goes down this Saturday. Here's a pull quote for that ass:
"Cee-Lo has always been the leader," Gipp acknowledges. "But this time it will be more recognized that he is the leader because of the things that he's done. We were the big brothers at first because he was the youngest. When we didn't know [it], he knew [it]. Us coming back into this situation, he can teach us more at this time. That's nothing but leaning on who got you. Me, Jo and T recognize that now and everybody should know it."
Read all about it.
Update: Missed these two promo spots.
[vodpod id=Groupvideo.3433238&w=425&h=350&fv=clip_id%3D6172742%26server%3Dvimeo.com%26autoplay%3D0%26fullscreen%3D1%26md5%3D0%26show_portrait%3D0%26show_title%3D0%26show_byline%3D0%26context%3Duser%3A1410534%26context_id%3D%26force_embed%3D0%26multimoog%3D%26color%3D00ADEF%26force_info%3Dundefined]
[vodpod id=Groupvideo.3433249&w=425&h=350&fv=clip_id%3D6208559%26server%3Dvimeo.com%26autoplay%3D0%26fullscreen%3D1%26md5%3D0%26show_portrait%3D0%26show_title%3D0%26show_byline%3D0%26context%3Duser%3A1410534%26context_id%3D%26force_embed%3D0%26multimoog%3D%26color%3D00ADEF%26force_info%3Dundefined]