Styles P & DJ Green Lantern: "The Green Ghost Project" Artwork
September 17, 2009 @ 11:36 PM EDT
General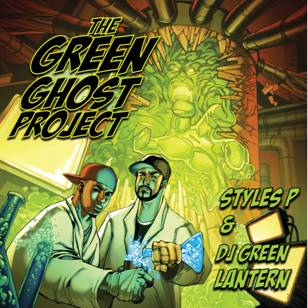 Here's the artwork for Pinero and Lantern's forthcoming mixtape, album The Green Ghost Project. Be afraid. Be very afraid. Peep the press release after the jump.
Via: NR
"The Evil Genius" DJ Green Lantern, and Styles P "The Ghost" have joined forces to create a monster – "The Green Ghost Project" – and on Nov 17th the world will say "It's Alive!!!"
"The Green Ghost Project", a joint album filled with original production from DJ Green Lantern, Alchemist, Scram Jones, Statik Selektah, etc., can be seen as the next natural step for the two mixtape veterans who constantly look to push the boundaries of how Hip Hop is given to the fans. "Styles and I got together and made a monster", says Green of the project, which is being distributed through Invasion/The Orchard.
"Don't call me 'The Ghost' right now, call me 'The Green Ghost'", remarks Styles P about the album's sinister undertone. "It's a different display of talent. We got together and brainstormed about it and it came out crazy!"
DJ Green Lantern and Styles also added some potent ingredients to the mix in the form of guest appearances from Jadakiss, Sheek Louch, M.O.P, N.O.R.E, Uncle Murda, Junior Reid, and more, taking "The Green Ghost Project"