Weezy Meets Weezer
September 29, 2009 @ 2:59 PM EDT
General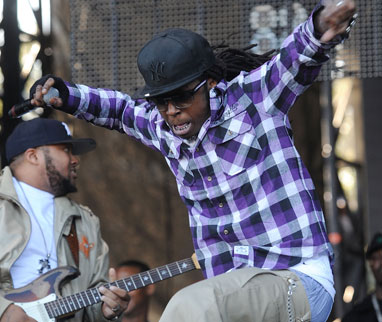 In his never-ending quest to be taken seriously as a rock star, Lil Wayne has locked down a Jermaine Dupri-produced collabo with LA rock band Weezer. Lead singer Rivers Cuomo explains this mess to MTV:
"I reached out to some friends of mine in different genres: Jermaine Dupri, for example, king of R&B, I wrote a song with him called 'Can't Stop Partying.' It was a real challenge for me, taking his ideas, which are very slick, R&B party [ideas], and giving it some kind of edge, some darkness, making it work with rock, making it work with Weezer.
"Not only that, but we got Lil Wayne to come in and do a rap on it," he continued. "Any other rapper would've just done, 'Yay, we're partying! Let's drink and have fun,' but he gave it the edge I was looking for. You can hear in his voice, it sounds so dark, like he was gonna get shot or something when he walks out of the studio. So I was real happy that everyone involved got what we were going for."
It's gonna sound like a bad mash-up for a $100, Alex.