Russell Simmons Pays Tribute To Jay-Z
October 20, 2009 @ 11:39 AM EDT
General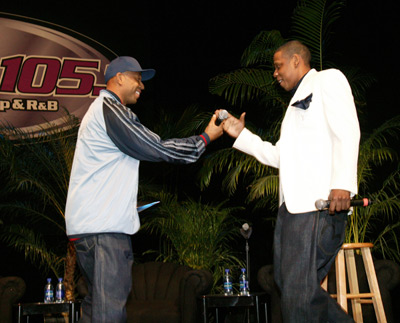 Pardon Uncle Russy's tardiness, but I gather Hov reaching his 11th #1 album has finally impacted him. Now this what the fuck I call a delayed reaction. Here's a sample of his new GG blog:
Looking back at his amazing career, it suddenly dawned on me, that in a hundred years from now, we're gonna be talking about Jay-Z.  When we think of hip-hop, we will think of Jay. But what is even more important than his album sales, is his affect on American popular culture. Let us not forget that all the other "kings" didn't come from the culture that created the music that they played. Hip-hop is the first cultural phenomenon represented by a face in the community where the culture came from. This wasn't possible for rock n' roll or blues or jazz…it was Elvis and Mick Jagger and Benny Goodman who were always considered the best. But, now the king of rap is confirmed black. And that means a lot.
Maybe Mr. Simmons can finish my book for me. Ha!