Eminem Featured In NY Times Magazine
June 17, 2010 @ 11:51 AM EDT
General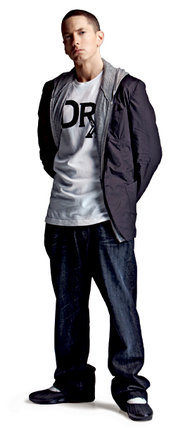 A few days ago, The New York Times released a portion of their interview with Eminem from this Sunday's magazine. In the excerpt below, Em comments on his Artist of The Decade Award and explains why he doesn't like to tour.
Billboard magazine has ranked you as the best-selling artist of the past decade.What do you do with all your money?
Save it. I save a lot of money by not buying drugs anymore. I invest. I always try to be smart. I try to treat all the money I'm making like it's the last time I'm going to make it.

Do you think rap has peaked creatively?
No. Hip-hop right now — there are certain artists who put hip-hop in a good state.There are a lot of talented people, and there's a lot of young talent coming up, like B.o.B, Jay Electronica, Lupe Fiasco and Drake.

Why haven't you planned any kind of big tour for your new album,other than two concerts with Jay-Z in September?
Touring is hard on the body.It used to be a big trigger for me with drinking and drugging.