YN RESPECT. Editorial
December 13, 2010 @ 3:36 PM EDT
General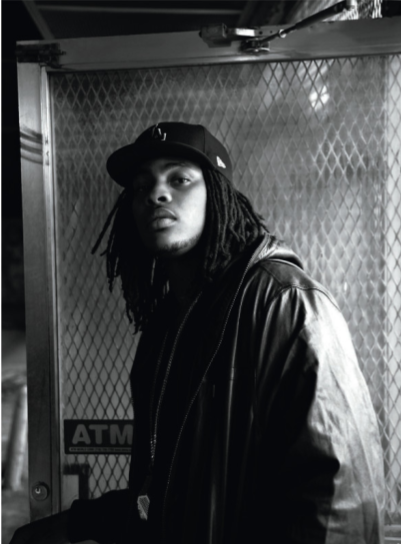 Image: Dan Monick
Like it was during my days at XXL, the editorial was the last thing I penned for my first issue of RESPECT. Was I nervous at first with thoughts of how could I ever live up to the past standard of groundbreaking excellence and not disappoint today's wide-eyed audience? A lil at first but then the shit just came to me. It always does. Guess it's a gift that keeps on giving. Feliz Navidad, kids.
Hell of a Life
Nowadays, things move fast in rap. Before you can finish the first magazine you've closed in three years, the manager of your cover artist may reunite with her biggest act; an anticipated album may turn into an even more desired mixtape; the mystery man of hip-hop may officially be in business with The Most Famous One by the time your friendly neighborhood newsstand guy hands you this issue of RESPECT. The first issue of RESPECT.—edited by me.
Advantage: Internet.
But still, killlin' trees has its advantages. The Web is often too disposable, and artists still have a soft spot for seeing their grills on tangible pages. Take it from a true journalist who made the transition: You can get a better interview with a digital audio recorder than with a Flip cam. And one quick perusal of Tumblr is testament to the new generation's unquenchable thirst for captivating, original photos of their favorite artists.
Advantage: Magazines.
Either way, documenting this culture has encompassed almost all of my 40 years on this earth. Oh, who am I? Jay-Z, muthafucka. Nah, it's Mr. Wilson. I know you missed me like Weezy. And oh yeah, this is still my editorial box. YN taught you. But he's still teaching. This time, though, my uniform has a RESPECT. logo in the back. Rheingold passed me the torch and I'm gonna Usain bolt past all you chumps. What's wrong with a lil' competition? There's nothing to fear but my indomitable fire to be the best. Print ain't dead—you niggas just scared.
You're too shook to give a guy like Waka Flocka Flame his due. Men lie, women lie, and Flame's hit records are the truth. Plus, he's been through more drama than the Baldwins: He got bucked, he got cold-clocked, he's checked his boss and battled the industry. To top it all off, his mama is off the chain! At a more-than-satisfying sushi dinner in ATL, I got to kick it with the fiery folk from Queens who moved to Georgia to bring the ruckus. Lucille's grandson could relate to them like they were my crazy-ass country cousins. I miss you, Nanny.
For my comeback issue, I personally did all the main music features. I wanted to prove I could connect with the carefully selected subjects—and deliver some excellent exchanges. So I pressed J. Cole for vivid details about his upbringing. I listened carefully as Jay Electronica gave me a three-hour lecture about his unbelievable journey through this thing called life. I even avoided striking B.o.B's personal assistant when he kept stickin' his finger in my glass of champagne. Lame-ass Atlanta boy. Ha!
Anyway, I didn't do it all alone. If my Hancock ain't on it, odds are @microtony touched it up—terrifically. Ro showed me that the hype is real, and she's an E.M.E. (Excellent Managing Editor). It feels great to be back with Davina, who daily becomes a better designer. Can't forget Lauren and all the young'ns who did the thankless transcription work. Still, most important, I must acknowledge the ladies of KWC, who handled the photo editor duties. This brand was built on the celebration of beautiful imagery, and you carried on tradition while still maintaining my editorial direction. Kudos.
In case you were wondering—yes, RESPECT. will continue to celebrate photographers. In this issue, my buddy Mel D. Cole and Baby's boy Derick G talk about the stories they tell through their lenses. But I still need the freedom to trudge uptown to chop it up with Just Blaze in his new studio (R.I.P. Grandma Feenie). Lounge at a bar and sip sake with Lex Luger to find out how a 19-year-old kid learned to make his drums so crispy. And don't you wanna know what Rap Radar's Brian "You're B.Dot" Miller makes of Jay-Z's Decoded?
Yeah, that's right, kids. Putting out a magazine is still pretty cool. You should try it one day. I appreciate JR for allowing me to take his creation and remix it. Whether through images or words, the mission is still the same. RESPECT. represents the best in hip-hop culture. Our culture. We got the experience, insight and dedication to do it better than the rest. What does it take to be No. 1? A whole lot of work. And guess what, pimple poppers? This O.G. feels reborn. You've been warned. The Chosen One is the old wise one.
Let that thing roll,
Elliott Wilson
P.S.: Peace to exo and Sally for settin' it off.
Dedication: Danyel for being the best.
Sidebar: YN Interview With Al Lindstrom Pt.1