RESPECT. B.o.B. Story
December 16, 2010 @ 5:55 PM EDT
General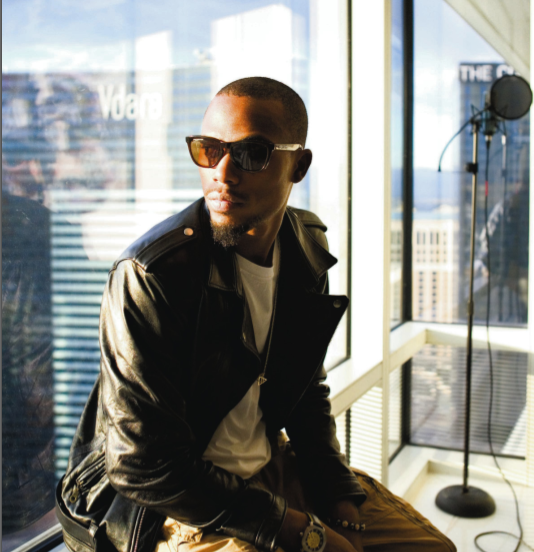 Image: Melissa Valladares
First Waka, then J.Cole and now comes the third music feature I wrote in the new issue of RESPECT. You think you know but you have no idea. Bobby Ray blew up, went pop but he still got his head on straight. Clap for him.
Superstar
From underground sensation to chart topper, B.o.B is busting through the walls that separate music. Armed with his trusty guitar, he's ready to discuss an encore.
Words: Elliott Wilson
B.o.B doesn't like doing interviews. You get the feeling he'd rather be holed up in the corner of his tour bus making music—instead of talkin' 'bout it. Sharing his sentiments, though, is part of the job of a rising star that released one of the year's most successful albums, his dandy debut, The Adventures of Bobby Ray.
Although criticized by some journalists, bloggers and fans for some of the more pop-leaning singles, like his Rivers Cuomo collabo, "Magic," Bobby Ray has been deep in hip-hop's underground since 2007. With his easygoing, quick-to-laugh demeanor, it's hard to begrudge his star quality, let alone his achievements.
Bobby Ray Simmons took a half hour or so from his busy schedule in Washington, D.C., to share the tales behind his rise—and what his future holds. Despite an annoyingly overprotective personal assistant who sat in on the interview, B.o.B was gracious and charming. Guess success suits him.
Just because people have talent doesn't mean they can navigate the music business. But you've carved your own path. How, exactly?
I had to utilize the Internet and mixtapes. Prior to this year, I looked at myself as a mixtape artist. There was a point where I believed I'd never have an album out, but [laughs] now that it's kinda taken that leap, there are a lot more avenues, in terms of just how to get my music out. It puts me in a different mind frame when I'm making music. But I'm still trying to continue doing what I've been doing, because that's what got me here.
Have you figured out the next step?
Well, I just did a mixtape.
I saw you on Twitter teasing it.
I can't help it. There's so much to say, just on traveling the world. When you see shit in Japan and Australia, you're like, "Whoaaa." It's like the exact opposite end of the world, so it gives you a different perspective. I just want to keep people in the loop. There's no way I'll stop doing that, because it's my foundation. I have a really high comfort level with mixtapes. Not to say that it's not the same with an album, but an album is more of a tedious project, because I'm really trying to make it a movie. So you can't cut corners. The mixtape is like street-balling; the album is the NBA.
The mixtape will be out this year?
Yeah. And this mixtape is the only mixtape I've released after an album, so it's for everybody who got introduced to the album first. This is me showing you, "Well, look, check out a modern version of my earlier work [laughs]."
You've been recording it on the road?
Some of it. Honestly, it's been what I've been working on this whole year. It's just I've been so busy that my thoughts have been scattered across from January until now. So it took me that long.
So, tell me: What's the viewpoint behind it? I feel like you had it in the back of your mind once the album took off.
I didn't know what to call it, and then it just doesn't have any name. It's just music, so I was like, No Genre [both laugh].
Is that to kinda answer a lot of hip-hop purists who may not like your sound? Is it a way to say, "Fuck that, that's what I am"?
Yeah, fuck what category it doesn't fit into, or what it may, you know? A lot of my mixtapes were, at the end of the day, hip-hop. [They] showed a lot of eclectic elements from the jump. Not just Cloud 9. I never really labeled myself just as a hip-hop artist, even though I am a hip-hop artist. Because I make hip-hop music. I listen to hip-hop music. I grew up on hip-hop music. But I also listen to a lot of other music, so I can't say I'm just a hip-hop artist.
You play instruments, too, so that gives you a little bit more musicality.
Exactly.
How did that develop? Do you write a lot with the guitar? Or when you get your MCing on, do you just zone the same way an MC would to a track?
I think the process is—here's the process, and I think just as a musician, this is the way musicians think, whether you're a freestyler-like MC, whether you're a rapper or if you're a guitar player, bass player, whatever. There's this zone that you're in when you're freestyling. Whether you're vocally, lyrically freestyling or just playing something freestyling, it's just a zone you're in. That's the approach you take when it comes to making music. You basically take what you would do in a freestyle and put it in a song—it still has that spontaneous element.
With the growth you've had, has the process of how you create changed?
I'm not trying to change what I do. I'm just trying to change how I do it. Because it's expanding. I used to always dream about getting an orchestra in the studio, or having a marching band in the studio. Now it's possible. I can't get too engrossed in one thing, because I'm real compulsive. I'll sit and play the piano for, like, a whole week and then just stop. My challenge is finding that balance and keeping that balance when I make music.
Were you that kid begging his mom to get equipment to start getting stuff down? How early did you know you wanted to do music?
It's been there from the jump. It just took me 'til I was about 13 to realize. A lot of the musical bug I caught was after I got signed, because then it was on—Oh, shit, I'm signed. I gotta make music all the day, and it's not bad. At the same time, I used to try to stay home from school to make music; it was like an itch. It was like—I have to make music, I have to. As a kid, you always have a world you wanna go to and escape from, whether it be video games or online games or sports, but for me it was music. I was making beats on Fruity Loops. I would record in the bathroom, hang up sheets, soundproof the desktop mic. It was bad.
This was, what, high school?
This is like elementary school. It was funny. I'd wear a do-rag when I'd rap, because that's what rappers wore [both laugh].
How did you start playing instruments? You were in band, I guess?
I started with a trumpet. While I was playing it, it wasn't the cool thing to do. I wasn't in marching band, but I was in a concert band. That's what kind of opened my mind to understand what I could do musically. And as far as piano, my sister has played piano since she was 6, so it's always been around. She's a year younger than me. She's been playing longer than me, because she kept playing during the adolescent days, when I was like, Shit, I'm-a just rap. But honestly, what really sharpened my skills was freestyling when I was in middle school, high school. Just throwing yourself out there unprepared is what really makes you prepared.
What attracted you to that? Were there artists you were listening to who inspired you?
After 8 Mile came out, that took the whole freestyle battle to a whole new level. It was like, Damn, freestyle battles could be like that shit?! That shit is cinematic. So in the back of my head, it was always this, If you're really a freestyle battler, then you gotta be able to do some cinematic shit. I was in the theater and saw that shit—it was crazy. I mean, before that, the art of freestyle battling was always there, we were always aware of it, people were rapping, we'd freestyle back and forth before it came out. But when I saw it, it took it to a whole nother level for me.
The irony is that you ended up doing business with them—the publishing deal and all.
It's crazy.
How did all that come about?
I always wanted to—when I was in elementary school or middle school—I'd always said I wanted to get signed to Shady Records. It kinda worked out on the publishing side. Couldn't have been better, really.
I guess Jim Jonsin was the first guy to really help you along?
Jim, he told me from jump—he was like, "I wanna work with you regardless of if you sign with me or not, just 'cause I flow with you musically." He had heard Cloud 9. I was unsigned at that point. He understood what I was trying to do, and he really didn't try to change me at all. He allowed me the freedom to make—whatever. When I was 17, I was making a lot of just fun songs, songs I had fun recording, or that were fun to listen to, but whatever the case may be, he believed in it. Then later, that's when the Grand Hustle venture happened. It was bound to, because we worked so closely with Grand Hustle a lot of the time. I have so much respect for Tip and Grand Hustle and Jim for believing in me from the jump, because where I'm at now as an artist, I see the focus you have to have to be like, I'm-a sign this artist and make a commitment to this artist, bring them, introduce them to the world. It's like, damn.
It's a commitment.
It's a commitment. I see why a lot of artists do it, like, later in their career, when they really have the focus to do that. Because it takes a lot.
How much did T.I. help you get your vision across?
Tip really fought for me. Just my creative freedom and giving me the space to make what I wanna make. He stressed not trying to change me. He was like, "Do you. Do what you do and I'm behind you 100 percent."
It seemed like one minute there were rumors about you quittin' the business and changing your name, and then the next thing you know, your project was up and running.
Ultimately, it was just timing. I'm continuously more and more excited about what I'm about to do each day, so all that waiting was necessary for where I'm at now. Because if it had come out earlier, I don't think it would've been the same. There was a point where it was peaking, but after "Nothing on You" was the perfect time to drop the album. It couldn't have been better.
What made you do "Nothing on You"? That was a Bruno Mars demo. You took that record and made it your song, put your stamp on it, made it a big hit. What was it you connected to?
As an artist you're always creating, always collaborating with people. You never know what's gonna pop, what's gonna jump. Me and Bruno played an equal role in that song exploding. And even though it was my song, my album—truthfully, it felt like a collaboration. I didn't have to compromise my artistry at all.
But it seems like a lot of artists have problems getting their records out. Is that frustrating? To connect with the label, get them to understand your vision?
Regardless of what somebody's job title is, people are people and you gotta make people believe in something. And it's gotta start with you believing in it.
Then the album comes out—it's No. 1. Is it hard to process fully what's going on at this time?
I haven't processed it fully. Everything hasn't set in, because it happened so fast. You find out something, like, for example, this single went platinum, and you're like, Whoa. But before you get a chance to celebrate, you find out the next single went platinum, and then you're like, Whoa. Then before you realize it, you're on a world tour and you don't really have time to process it all. So that's why, even though I wanna record so bad, it's good for me to soak this up.
Do you feel criticism? Once in a while you'll see a blog: "B.o.B sold out."
I feel like it just gets more intense. It multiplies exponentially, but elementally, it's the same artist, the same practice. I still rap on beats, I still make beats, I still play instruments, I still perform. Some people don't like it. I hope most of the people like it.
Here's a kid—he's talented, he plays guitar, he plays instruments—you cross genres. You play a humble role, but I feel like there's still a confidence, an arrogance to your shit. Do you feel like you're blazing a trail the same way Kanye is doing? Do you get your due as a game changer?
I don't know, man. I feel like there are three forms of me: There is my perception of me, the fan's perception of me, and then there's the real me, in between the two. So I think that each type of music receives the appropriate attention. So whatever type of attention I'm receiving now, I'm happy with it, I'm cool with it. I feel like—call it what you want [laughs].
I remember on "Ghost in the Machine," you talk about not being understood, but at the same time, you're good at not giving everything about yourself to the public. It's like you hold on to part of who you are. Is that your own balancing act for your own sanity?
Because of the fact that I'm real, I'm the type of person, man, where I really gotta watch—because I really just say whatever. My life story's been me trying to not say some shit [laughs]. Art gives you the freedom to express. That's when there are no rules. So the music is everything that I really wanna say. Like, I got five minutes to get a point across. It could be a simple point. It could just not have a point. The point could be that there is no point. So that's the amount of time you have to get a point across. As opposed to just shooting aimlessly, as opposed to just going off on Twitter or going off all day on blogs or interviews—it's like with the song, this is what it's always gonna be. I'm-a say this on it and put it out, and what I said on it, is.
That's the statement.
That's the statement. Exactly.