Foxy Brown's Moment Of Clarity
December 31, 2010 @ 10:36 AM EDT
General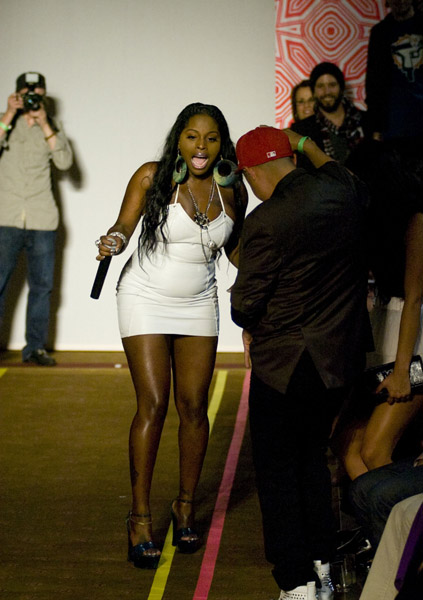 The decade couldn't end without Foxy Brown getting a word in. This morning, she turned to her Twitter account to address a false single and report ran by allhiphop. Read what she had to say below.
Damn, I cant even mourn in peace without some bullshit being posted….If yall dont hear it from a MARCHAND (Inga, Gavin or Anton) its bullshit! Fox will be on Hot 97 next week addressing everything….and "The Massacre" continues!

Just got the call…allhiphop.com still posting fake ass FOX news!! The dickridin' continues! Since yall niggas wanna lie to the streets, disrespect my fans and post fuckrie….I'm addressing it all tonite baby! NO…I am NOT droppin' a single called "rough whatever" Jan 1st or never!!

And contrary to the bullshit that was posted…"Christmas Massacre" is NOT supporting homegirl and dissin' shorty! "Massacre" is……….the response to bitches thinkin' its sweet insinuating my name in that beef! "Machine Gun Kelly" bitch!! I am the streets! I aint' taking NO sides….FOX stand alone!

So allhiphop ran a bullshit story! I'm repped by the Marchands NOT Bernadette Brennan. Marvet Britto's the ONLY woman…who at the helm spearheaded Team FOX. Just one mention of "Massacre" got the internet on fire!!! Everybody know Minaj is my homie! So yall already know what it is….

Let me correct all the erroneous shit written by allhiphop…. "If ANY of my lyrics are on ANY song they were STOLEN without my consent". And everybody quoted in that fraudulent article will be hit wit a lawsuit immediately. What "label" are they talking about? My attorney and I are in the process of negotiating the best deals….although I know where I need to be! I'm appalled they callously used the death in my family as a promotional platform for their upcoming artist. FOX is NOT affiliated with Bernadette Brennan or anyone else mentioned in that ficticious article. NO single will be sold on itunes Jan 1st.

Lastly, I dont appreciate my fans being lied to. Nothing in that story was truth. Stealing a multi-plat artists lyrics w/o my consent…….is not only an incredible lawsuit but a disrespect to my craft, my legacy and my fans. If MARY J or LAURYN HILL recorded a session……..in a studio while creating their album and decided to go with a hotter joint, who the fuck gives anyone in that studio the audacity to……experiment wit a seasoned artists music?? And throw ur unknown artist on MY song without my consent, on some secret society shit then…….w/o FOX hearing or approving anything, these bastards "Biggz I trusted u" had the fuckin' nerve to put a fake press release out lying! I see I've been letting too much shit pass…….maturation FOX been too nice so yall must want GUN COCK! allhiphop….like Jay said "yall need to double check ur story"!

As for that bullshit press release… I'm furious! But I'm still grieving and I luv GOD for real, so I pray for revelation and he reveals….the snakes, haters, frauds! My lawyers informed itunes that this "song" is NOT approved and my lyrics were stolen. My mom just said……"Ing I always tell u, when a person shows u who they are….believe them."

FOX "Christmas Massacre" (the massacre continues…) & my New joint wit BABY CHAM "Dutty ti Tingz" coming soon!! I never tweeted this much ever! But yall know how much I luv my fans so I hope I cleared up any misconceptions about allhiphop & "Massacre!"

Just wanna thank yall for ridin' so hard for Boogie…Luv yall. U know the Team FOX saying….."ANYTHING FOX I'M IT"!!!