Keyshia Cole vs. Lil' Kim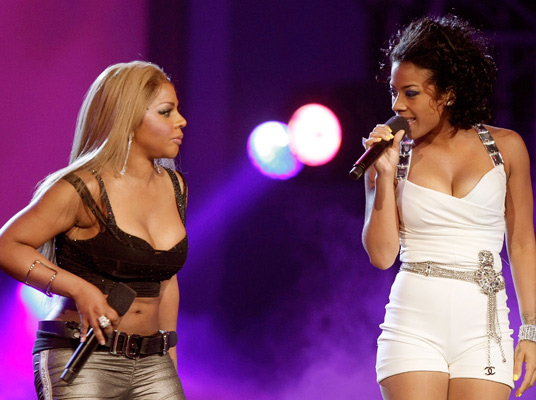 Not only can social networking form new friendships, they also end them as well. Not too long after Keyshia Cole vented about her BET Award snub, she and Kimberly shared an exchange which more than likely stemmed from Keyshia collaborating with Nicki Minaj. Hey, it's just Twitterrr.

Queen Bee stings back:
U got that right. We are not friends. The same way U take friendship seriously i take loyalty serious. The whole world has seen me extend my hand to u over and over again. Only someone who's trying to build a sincere relationship does shows 4 free & supports. u did not pay me a dime 4 none of that. That warrants some type of loyalty and respect.

Friend or no friend i would have never let anybody disrespect u on my record but i can't expect everyone to be as real as i am.At the end of the day karma is as real as i am and it's coming to get u. oh wait…if it hasnt got u already…My love & loyalty to u got u a hit, ur friendship with ur friend got u a flop. looks like u need to choose ur friends more wisely dont u think? #teamlilkim LEGGGGOOOO.

Loyalty and respect has nothing to do with friendship…BOOM. Loyalty and respect is about returning a kindness. Have you ever came out and supported me at my shows? i dont think so. Yes it was a good look for me but it was a great look for u. At the end of the day it was a hit on YOUR album. Sticking 2 the situation. Again I would have never let anyone disrespect U on my song. That's loyalty & respect. End of story.
Keyshia "ain't thru":
Kim that was a gr8 look 4 I coming out of jail just as it was a gr8 look for missy to have produced it. all I'm saying is don't have everyone thinking I was disloyal as a "friends" cause we were never that and u know it. No disrespect.
Sidebar: Trina Says "Fuck BET" and Nicki Minaj supports Trina.