ESGN: Freddie Gibbs "5 Reasons To Bench Boozer"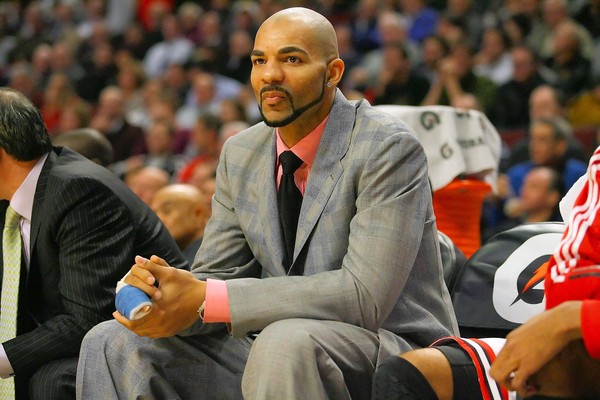 After noticing Freddie Gibbs' insightful and often humorous observations on sports through his Twitter account, Rap Radar decided to give him a forum to express his thoughts on the thrills of victory and the agonies of defeat. It's Gangsta Gibbs Wide World Of Sports. The black Bill Simmons is here. And for his tenth colomun, Gibbs gives his reasons as to why Chicago Bulls' Carlos Boozer ought ride the pine.
Man, you can go back to Utah with this bullshit.
I knew I didn't like Duke for a reason. The players that come out that bitch are usually soft in the league. I like Grant Hill, Elton Brand is OK and I can deal with one Duke player on my team in Deng. But Boozer? Goddamn.
You're the most overrated dude in the East to me. Last night was probably your best game in the playoffs and you still didn't make an impact. Somebody correct me if I'm wrong but it seems like everytime you touch the ball Carlos it's a disaster. You either turn it over, or you get the rebound slapped right out of your hands. Soft. Totally Soft. You play with no real aggression. Just a bunch of
hype, mean faces and chest beating. You had the nerve to criticize Chris Bosh—who is just as soft as you by the way—and then you made him look like Willis Reed in Game 3.
Well #5, you're definitely not living up to the 5-year, $76 Million contract the Bulls gave you last year, and I know it's still early and there's always next year but fuck that, I want a ring now so here's 5 reasons why we should go in a different direction than Boozer being our second option.
#5.  We play better without you.
Shiiiit we was on a run while you and Noah rode the bench. We won like 16 out of 20. We got a pretty decent bench and they come in the game way more hungry than you. You don't even average a double double no more dog.
#4.  You make too much.
For a dude in the 13 million a year range you should be putting up All Star numbers. Maybe it was just the system in Utah that made you look like an all star. I don't know what it is, but everytime you shoot a jumper I close my eyes and put my head down. When you gon dunk on somebody? Like for real. You look like Karl Malone on the Lakers right now.  You should take a paycut so we can bring in some guys that really want that chip dog. I'm just being honest.
#3. Did I mention you were soft as wet toilet paper?
Whether it's a bobbled pass, a dropped rebound, you gettin blocked or whatever I'm just sick of seeing it.  You go to the hole expecting to go to the free throw line instead of using that 266 pound frame to go bang Bosh ass out the paint. I know you ain't a 7-footer but damn.  Your defense is a mystery.  I ain't seen it all year. I'd honestly rather us start Taj Gibson, he got more intensity, but you got the big salary so you gotta get those minutes.
#2. That wack ass rap song.
All you athlete niggas that try to rap let it go. Kobe and Allen Iverson should be example enough that y'all niggas need to stick to hooping.  You don't see me coming to no fuckin tryouts. Shaq the onlynigga that showed y'all how to do it right.  I still bump "You Can't Stop The Reign" with Biggie that's my shit. Shouts out to real athlete/musicians like Wayman Tisdale (RIP).  That shit was wack, Booz, I love the BULLS to death but I can't support it.  You single-handedly changed my feelings about my team in the playoffs. Every time I watch the game now that musical atrocity comes to mind.
#1. Dwight Howard:
Yea Yea I know all y'all Laker fans hoping and praying that Superman comes to the West Coast. Bynum gone, Gasol probably gone and Kobe need help. But fuck him he got 5 rings. Come to Chicago, Dwight and play with a winner like D. Rose. He carried the team all year and with another superstar not a Boozer next to him we'll get 6 more rings and destroy the Knicks dreams of ever getting another one like we did in the 90s. (sorry Lambo) Hell I ain't no CPA or nothin' like that, but I think we actually got enough bread under the cap to get Dwight and keep Boozer, but I'd rather he come off the bench and we might have to get rid of him, Noah and Deng to make the trade. So be it.
Fuck y'all this my opinion. My team on a championship drought and I'm not liking the way we playing right now. Definitely gotta make some changes Miami got more talent than us but we can beat them if we make the right adjustments and Boozer quit playing like a bitch.
Shouts out to YN and B Dot. I'm out this bitch til Monday.