ESGN: Freddie Gibbs "Get Well Soon Peyton"
September 12, 2011 @ 4:00 PM EDT
General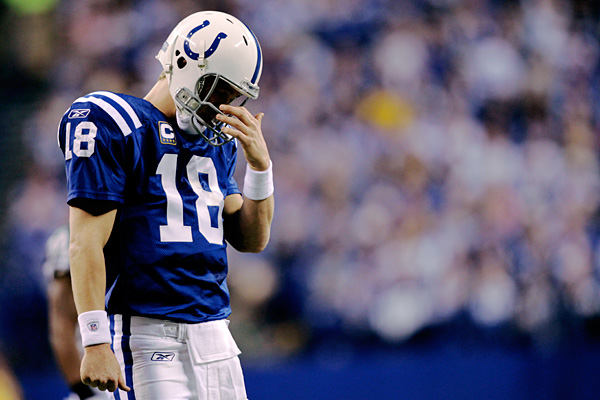 The gangsta has returned. After noticing Freddie Gibbs' insightful and often humorous observations on sports through his Twitter account, Rap Radar decided to give him a forum to express his thoughts on the thrills of victory and the agonies of defeat. It's Gangsta Gibbs Wide World Of Sports. The black Bill Simmons is here. And for his 13th column, weighs in on week one of the NFL season and Indianapolis Colts QB, Peyton Manning's neck injury.

ESGN bitch. Back like we left our weed on yo baby mama's kitchen table.
A nigga finally got a chance to really watch some football this week due to the fact that I had a week off. Plus my cable company gave us free NFL Sunday ticket for the weekend. I remember the good old cheater would allow us to just steal shit like that.
But anyway NFL week one was exciting. Either that or we were all just happy that lockout shit didn't bleed over into the season.
The Thursday night game was off the chain. As I said via Twitter, the Packers look focused, which means my BEARS gotta be twice as focused to challenge them in the NFC North. The 2 time 100-Million Dollar Man, Mike Vick, was in MVP form with almost 200 yards passing and about a buck on the ground.
Even the 49ers got a W.
Ted Ginn from "The" Ohio State University showed his ass with 2 kick return TDs in less than a minute.
There were a few blowouts as well. The Steelers got outclassed and outmuscled by the Ravens 35-7. And the Bills whooped up on the Chiefs in a very lopsided victory that really could've went either way, 'cause both teams suck.
There was plenty of action in week one, but there was still some magic missing from the league this week: Peyton Manning.
Now, I hate the Colts and they deserved every bit of that ass beatin' they got from the Texans. But it was sort of like beating a dead horse. I don't like kicking the enemy when they're down, I want my enemy to be at its full potential when I fuck 'em up. Without Peyton, Indianapolis looked like a JV squad. Granted, Kerry Collins is a solid veteran in this league, but he's no Peyton. His two lost fumbles and sub-par performance on Sunday proved that.
It made me think though: What would the league be without Peyton? Nobody other than Tom Brady prepares and executes at the QB position better than him. He's arguably been the best in the business for the past 10 years. And although my heart rests in Soldier Field, I wouldn't mind seeing him make another run at a ring.
Such a decorated career deserves more jewelry and it'll be sad to see the Peyton Manning era succumb to a career-ending neck surgery. I hope he makes a full recovery. Losing 10 percent of the motion in your neck is some serious shit. In fact, that makes it hard for you to do regular shit, let alone play football. I hate him the most because he's the best.
Get well soon Peyton, the league ain't the same without you.