French Montana Excuse My French Tracklist
April 11, 2013 @ 10:15 PM EDT
General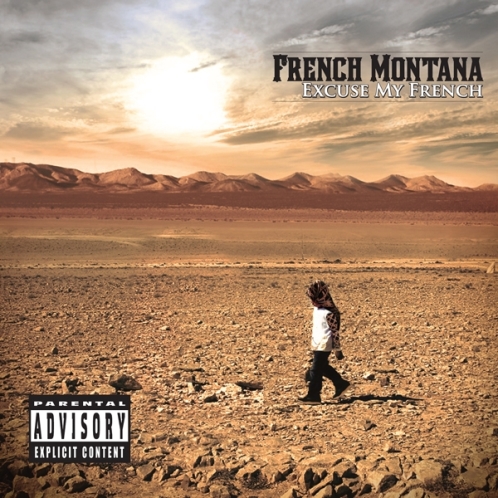 Morocco to New York is one helluva trip. And the long journey begins on the cover art of French Montana's debut, Excuse My French. Album drops May 21.
UPDATE: Best Buy shares the titles below. More features added later via hhnm
UPDATE 2: Now with the rest of the guests. Now on iTunes.
1. Once in a While (Ft. Max B)
2. Trap House
3. Ain't Worried About Nothin
4. Paranoid (Ft. C.A.S.H.)
5. When I Want
6. Fuck What Happens Tonight (Ft. DJ Khaled, Mavado, Ace Hood, Snoop Dogg & Scarface)
7. Gifted (Ft. The Weeknd)
8. Ballin Out (Ft. Jeremih x Diddy)
9. I Told Em
10. Pop That (Ft. Drake, Lil Wayne & Rick Ross)
11. Freaks (Ft. Nicki Minaj)
12. We Go Where Ever We Want (Ft. Ne-Yo & Raekwon)
13. Bust It Open
14. Drink Freely (Ft. Rico Love)
15. Throw It in the Bag (Ft. Chinx Drugz)
16. Marble Floors (Ft. Rick Ross, Lil Wayne & 2 Chainz)
17. Ocho Cinco (Ft. Diddy, Red Cafe, MGK & Los)
18. If I Die