3D Na'Tee Signs With ADD & Universal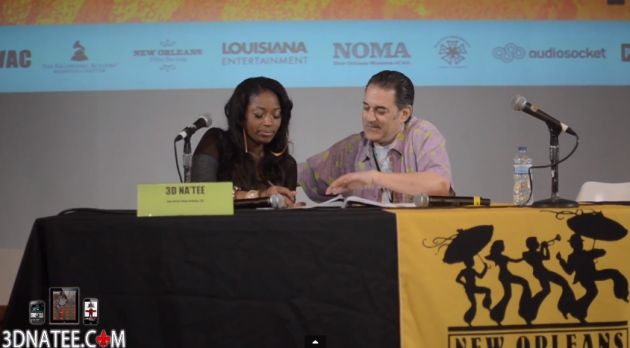 Signed, Sealed, Delivered.
It's been a long time coming, but well worth the wait. A few days ago, 3D Na'Tee signed to Russell Simmon's All Def Digital and here's footage of her letting the ink dry. Congrats! Says 3D:
People would often assume that I must have wanted an astronomical amount of money to sign or that I must be difficult to work with which was not the case. I just wanted a label/team that whole heartedly believed in me as a creator and not just as a rapper. Money is the easy part. You can lose that shxt so easily. 
The hard part is creating the ideas. People with money invest in people with the ideas. The creators. Then the creators go off to create more. Then the people with the money reinvests in the new idea and inform more investors about this brilliant creator. At the end of the day, being rich in ideas has always been more important to me than the actually money but I needed a team who believed in and accurately valued those ideas. I think I found that with Russell Simmons, Steve Rifkind, their staff, and Universal Records….
I can't lie, I used to dream about this day when I was 10 years old. I dreamed about it a few years ago when my lights were off and I was sleeping on the floor. I dreamed about it from the back of police cars and every time I make a song for you. I'm extremely grateful and I know I'm extremely blessed. The fear of failing is present but that fear does not have half the impact on me as this dream has. To those who've been downloading my mixtapes over the years and and putting your friends on my music, thank you again for supporting me for so long. Thanks to the Most High and to each and every one of you because this is a dream I've had since I recorded my first song back in elementary school.