Lil Wayne Presents Weezy Wednesdays
September 25, 2014 @ 10:04 PM EDT
General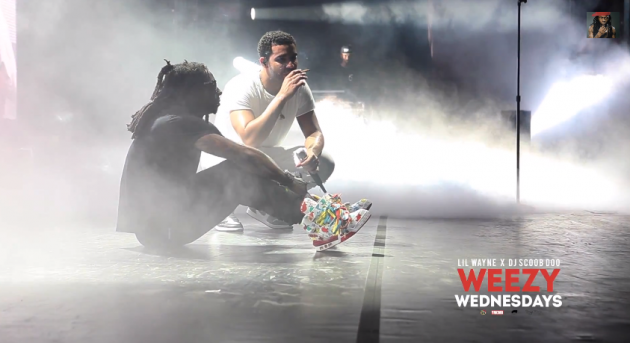 Hold On, We're Getting High.
Tune's weekly vlog series continues this week with both Weezy and Drizzy performing "Hold On We're Going Home". Tour ends this Saturday in Woodland, TX.
Episode 24:
With Tha Carter V in the horizon, Weezy's back with his weekly vlog and announces his and Drake's, "Grindin" will premiere at noon tomorrow.
Episode 23:
Weezy's out to fight ALS aka Lou Gehrig's disease by performing the Ice Bucket Challenge.
Episode 22:
This week, Weezy kicks back with Euro and futbol star, Cristiano Ronaldo. And oh, in case you're wondering, Wayne still doesn't know the release date for Tha Carter V.
Tune keeps the vlog series going with another trailer for his upcoming tour with Drizzy. Watch the previous trailer here.
Episode 21:
Weezy weighs in on Total Slaughter.
This week we check out Lil Wayne giving his thoughts on Battle Rapping, Joe Budden vs Hollow Da Don , and whether or not he'd ever get in the battle rapping arena.
Episode 20:
Wayne takes a trip down memory lane and talks about his early years on Cash Money Records.
This week Lil Wayne recounts his time touring with Cash Money and The Hot Boy$. Weezy tells us about how they used to enter the stage on a helicopter after Birdman's set. However, one night Wayne suffered what was thought to be overheating and collapsed. As we know now, Wayne is epileptic, had a seizure and had to miss a number of shows. When he returned to full health, Wayne no longer entered via helicopter, he was personally introduced by Stunna and ran out on stage, thus beginning Weezy's solo career. Voila, the birth of Lil Wayne.
Episode 19:
In Weezy's weekly vlog, he announces that he's added his first born, Reginae, to the Young Money roster before previewing her new video. Family over everything.
Episode 18:
We're at 18 and in this episode, Tune teases us with his next single, "Krazy".
Episode 17:
In addition to Tha Carter V, Tune reveals that he will be releasing a second LP this year called, The Other Album. 
Episode 16:
Well that was fast. Live from the 305, Tune skates and records in the studio and then preps for appearance on ESPN's First Take. Videographers and uploaders take notes.
Episode 15:
Bonjour. Tune jets from L.A. to Cannes, France for the Cannes Film Festival. Here's a recap of his festivities including a freestyle, partying at Gotha and more.
Episode 14:
Carter Season V continues with another installment of his weekly vlog. In it's new episode, we are back in the studio for a preview of a new track, "Side Bitch".
Episode 13:
In the lab with Lil Twist and Euro, Lil Wayne gives an in-studio performance of a new track "Tina Turn Up Needs A Tune Up".
Episode 12:
Lil Wayne pours him a glass and previews his upcoming track, "D'usse".
Episode 10:
Please believe it.
Episode 9:
 Tune's weekly vlog series continues with a behind the scenes look at the "Senile" video followed by YMCMB's Euro free styling over "Shook Ones Pt. 2".
Episode 8: 
With 4/20 just four days away, Tune takes us back to how he celebrated stoner's day last year. If you do it, you gotta do it big.
Episode 7: 
Tune kicks a rhyme and gets his skate on at Tampa Pro 2014.
Episode 6:
Behind the "Moment"
Episode 5:
SXSWeezy
Episode 4: 
Lions, Tigers, Bears—Computers?!
Episode 1, 2 & 3:
Yeah, yeah: It's Thursday. But who's keeping track, anyway? Two weeks ago, Lil Wayne kicked off his Weezy Wednesday vlog series. In his latest vignette, videographer DJ Scoob Doo follows Wayne during NBA All Star Weekend. Check out the next two episodes below.