T.I. & Tiny 'Family Hustle' Season 4 Ep. 19
October 14, 2014 @ 9:04 PM EDT
General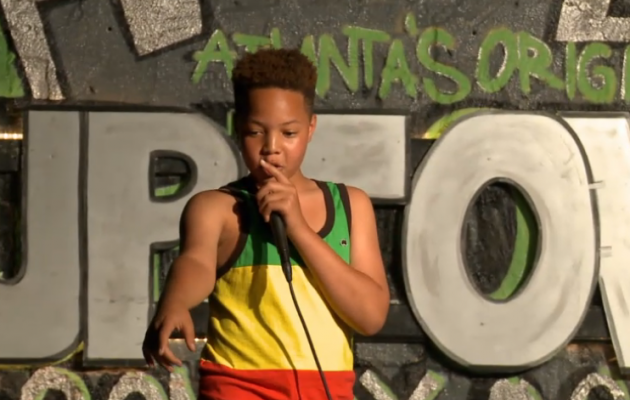 Funnyman.
Tiny finally has the mother-daughter pageant that she always wanted. Meanwhile, T.I. gets Domani some comedy lessons to help prepare for his stand-up act.
Episode 17:
While Tiny takes the girls out and about for an adventurous day, T.I. teaches Major the fundamentals of pranking his older brothers. Jokes on you, Domani and Messiah.
Episode 16:
Before the girls hit the road, Tiny advises them to take self defense classes. As far as the boys, they're causing ruckus at home and T.I. plans to catch them in the act. Men lie, women lie, cameras don't.
Episode 15:
Tiny and Shekinah take the boys down to the country for some fun. Meanwhile, T.I. comes to the rescue when Messiah needs helping pulling off being at two places at once.
Episode 14:
While Tiny and Shekinah compete in various competitions to see who the better athlete is, T.I. takes Domani and Messiah to a lab for a lesson in science. Googles high advised.
Episode 13:
Chain smoking is nasty. Just ask Big Homie. In this week's episode, Shekinah's seeks help for it with a hypnosis. Meanwhile, T.I. takes the kids back to his old hood for a traditional game. It's on!
Episode 12:
While Shekinah seeks Tiny's help to create an informercial for her new hair product, T.I. takes the boys out to a special event.
Episode 11:
After a few months off, the Harris family keeps the hustle going by getting into the lemonade business. See how the family comes up with their best batch and present their product. Easy on the sugar, guys.
Episode 10:
There's a first time for everything. And during last night's double-feature of The Family Hustle, T.I. and Tiny's youngest has his firsts. In episode 10, the family helps Major get ready for his first school dance.
Episode 9:
After the passing of her father, Tiny tries to ease her mother's pain by getting her out the house. Meanwhile, Major has his first field trip and T.I. agrees to chaperone. Someone please call 911.
Episode 8:
As King and Major think about what they want to be when they grow up, Tiny takes Major and King to various jobs. Meanwhile, T.I.P. partners up with the Make-A-Wish foundation and performs for Rayquan, who recently lost his battle with cancer.
Episode 7:
As Shekinah's business becomes more busier, she and Tiny conduct interviews for a personal assistance. Meanwhile, T.I. looks to bank on who can eat the hottest wings.
Episode 6:
After Niq Niq graduates from high school, Tiny considers on obtaining her GED. Meanwhile, T.I. puts the boys to work to earn some money.
Episode 5:
As Niq Niq prepares to move out soon, Tiny decides to spend more time with the girls. Meanwhile, Uncle Rush decides to crash the household.
Episode4:
After wanting a pet for the longest, T.I. and Tiny surprise the kids with a dog. But owning one comes with responsibilities. Here's how it went.
Episode 3:
T.I.P. is on the mission to teach the kids the meaning of teamwork. After a failed project, he and Tiny take the kids to Space Camp for a day full of challenges. We have lift off.
Episode 2:
After learning that Domani and Messiah saved Aunt Precious from a asthma attack, T.I. encourages the family to take first aid courses for future emergency situations.
Episode 1: 
T.I. and the family are back. And to kick-off their fourth season of The Family Hustle, T.I. decides to spend more time with his family especially with his precious daughters.