Fabolous Introduces Brooklyn Nets
April 27, 2015 @ 9:45 PM EDT
General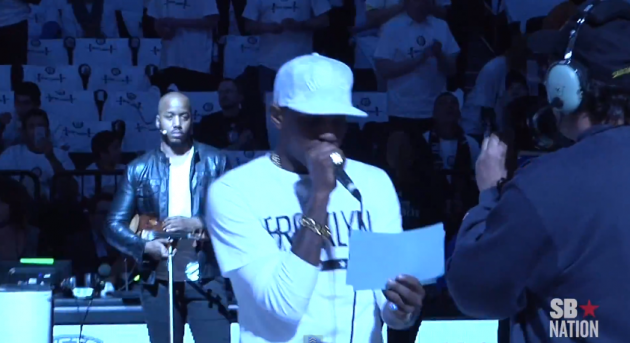 Post Season.
The Brooklyn Nets hosted the Atlanta Hawks this evening for game 4 at the Barclays Center and Fab was back to introduce the home team's starting lineup. After heading into overtime, the Nets hung on for a 120-115 win, now tying the series at 2-2. It's back to Atlanta manana.
Previously:
The Brooklyn Nets forced a game 7 this evening following their 97-83 win over the Toronto Raptors. Prior to tip-off, Loso took center court of the Barclays to introduce the Nets' starting lineup. Those in attendance included Jay Z and Drake, who were rooting for their teams.
The Raptors host the Nets in Toronto this Sunday in hopes to advance to the next round against the Miami Heat. Brooklyn, we y'all did it.