Rick Ross Returns To The Breakfast Club
December 3, 2015 @ 10:46 AM EDT
General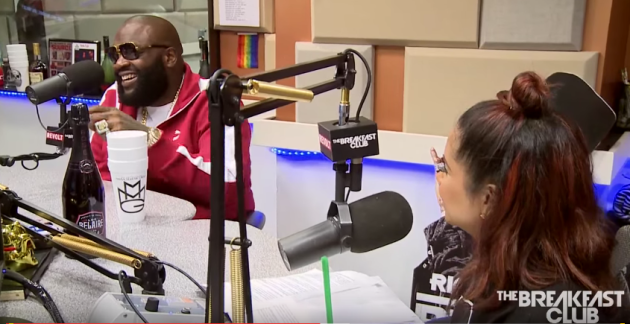 Bo$$ Talk.
Rick Ross' Black Market is available tomorrow, but today, he returned to Power 105.1. He addressed his song "Color Money", Birdman, 50 Cent, and more.
Previously:
Rozay's back.
The Breakfast Club has a conversation with Rick Ross. He speaks on the real Rick Ross wanting to do business with him now and calls him a snitch, speaks on his rumored girlfriend Ming Lee, the process for MMG artist putting albums out, how does he feel about Omarion doing reality TV, does he think his sound is getting redundant and more!!
The Bawse returned to Power 105 this morning to discus his upcoming Hood Billionaire album and the creating process of the project. He plugged its new single, "Keep Doin", working with R. Kelly, confirmed Jay Z's guest appearance, releasing two albums this year, Meek's incarceration, Wale's relationship status with Meek and more.
Back with the Power 105 morning crew, Ross weighs in on the brief boycott of his latest video, the recent vandalism of his tour bus in Detroit, Reebok deal and, of course, the album. GFID in stores now.
Back with the crew, Rozay recently returned to Power 105. He spoke on Mastermind, his MMG weekend, health, new single with Jay Z, advice for upcoming artists and more.
Rozay's back. He discusses his relationship with Diddy and Jeezy, Trayvon Martin, 50 Cent feud, copping Evander Hoylfield's house, and more.