Action Bronson 'Fuck, That's Delicious!'
March 11, 2016 @ 8:06 PM EDT
General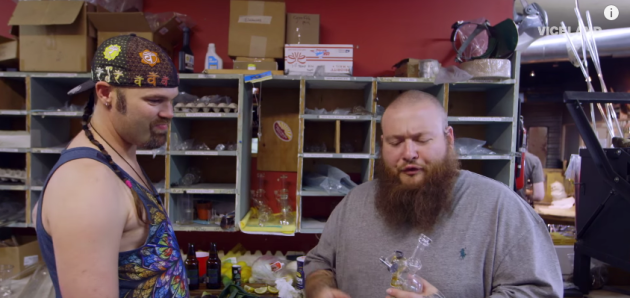 New Show Alert.
Enroute to Vancouver, Bronson and friends hit up the Pacific Northwest for some salmon, weed, chicken, lamb.
Previously:
Action Bronson's Cable Network series kicks off their first online episode. While on the road in D.C., Atlanta, and Miami, Bam Bam and company hit up some fine food spots including BBQ, bay scallops and papaya.
Action Bronson explores more French cuisine and this time Chef Boulud introduces the pressed duck in his latest episode.

Action wanted to try pressed duck—or canard à la presse, as the French would say—so we got in touch with Daniel Boulud and made it happen. The dish takes about five days to prepare and is finished tableside in a silver "duck press." Then, the sauce is made in front of the table using the juices from the duck whisked together with wine, Cognac, and some other agents of deliciousness. Chef Boulud was also nice enough to pop a bottle of 1983 Guigal Cote Rotie for the occasion, and in return, Action told him how to write a rap album
Action takes to Jamaica and spices our life in his latest episode.
As Action Bronson's presence in the "Food World" becomes more permanent, new and diverse opportunities are popping up for the self proclaimed Human Highlight Reel. This time it popped up in the most beautiful location possible, Goldeneye Resort in Oracabessa, Jamaica. The event was entitled Nyam Jam, and even before Action knew exactly what it was, he agreed to attend. As stated in the video, there was not a single bad bite of food, and if you love hot sauces and various pepper spreads, then you really couldn't do much better. Mr. Bronson honed in on a calabasa slaw prepared by visiting Puerto Rican chef, Jose Enrique and a smoked chicken sandwich from Jamaican grill master, Gariel Ferguson. His experience at Nyam Jam inspired him so much, that upon his arrival back in New York, he immediately got cow foot stew and ate in the parking lot of Home Depot. One love.
VICE is set to launch their cable channel on February 29. But before it does, here's the trailer for Action's show featuring Meyhem Lauren, Big Body Les, and our pal, The Alchemist.
Action Bronson is back with another episode of his culinary series. Linking with Mike Rojas, the truffle hustlers hit the kitchen to explore white truffles before ending their day feasting.
Episode 12:
Action is back on his culinary shit. Filmed last year in Hawaii, we see Action getting busy with beets and BBQ while catering for the Pipe Masters event. Surfs up.
Episode 11:

Action's still in La Land. And this time, he returns to Ink with Chef Michael Voltaggio.

Mr. Wonderful has inspired some serious food over the last couple of weeks. We've shown you "Easy Rider"-inspired stuffed quail, wild mushroom risotto set to "Baby Blue," and now you can add octopus shawarma and char siu lamb belly to that list.
Episode 10:
Action's 'Fuck, That's Delicious!' series is back with another round of their special segment, "Food Inspired by The Album". Pick up Mr. Wonderful here.
In the second installment of Food Inspired by the Album. . . . Mr. Wonderful, Action Bronson visits an old friend: Chef Michael White at Marea. To start things up, Action plays his new tracks "Terry," "Baby Blue," and "Falconry" for Chef White to get him in the right state of mind before they take to the kitchen. While Bronson has been previously documented dining at Marea, he had yet to step behind the line and actually cook with the chef in the restaurant until now. Action also offers his first public foray into the world of wine pairings, asking Marea's wine director—Francesco Grosso—to choose the wines that would pair up best with dishes that he and Michael prepared. This episode will satisfy the cravings of gourmands and hip-hop aficionados alike.
Episode 9:
You are now cooking with the best. Says Vice:
In this video, Action Bronson's food TV dreams come true. Bam Bam gets a no-holds barred tour of Eataly from his culinary idol, Mario Batali: they sampled salumi and formaggi, create pizzas, and dine on a stuffed fried quail so delicious-looking, you will want to eat right through your screen. Thanks for watching, and go buy the album Mr. Wonderful right here.
Episode 8:
Action 's California dreaming on the eight episode of Fuck, That's Delicious. While out west he hooks up with our pal, The Alchemist and B-Real. This should be good.
In this episode of Fuck, That's Delicious we head to the land of juice bars and drive-by's: California. While in the Golden State, we check in with The Alchemist during a recording session, catch a culinary performance at the Odd Future Carnival, and get some Hollywood power lunch tips from Simon Rex at Ink. As if all that isn't enough, Action meets up with B-Real for tacos on the East Side, and then balances it all out with a spectacular cauliflower recipe. That's some California love.
Episode 7:
Action's celebrating his birthday today and in the latest episode of Fuck, That's Delicious he visits eateries in Queens and Manhattan. Ride along.
In this nocturnal edition of Fuck, That's Delicious, Action Bronson shows us some of his favorite late-night go-to's for midnight snacking. From the most Northern parts of Queens to Washington Heights, the FTD audience will get a well-curated tour of New York City's lesser-known after-dark eateries. We also get a chance to see Mr. Wonderful flex his culinary prowess while whipping up an ice cream sundae comprised of ingredients sourced solely from the Lower East Side. Getting around to all of these special places on the fly was no easy feat, so we enlisted super-cabbie Charlie to help us get the job done.
Episode 6:
Mr. Wonderful's back in Europe and makes his rounds in Denmark and Italy. Back in the states, he hits up Chicago 's Weiner Circle and hooks up with Mike Ditka.
We begin our journey as Action is leaving the world's number one restaurant—Copenhagen's Noma—and don't stop until we hit Chicago's Weiner Circle with Riff Raff. Along the way, we hit up a private barbecue at Amass, enjoy a private meal cheffed by Lee Tiernan, plow through the whole menu at Hot Doug's, and share some prime cuts with Coach Ditka.
Episode 5:
Well, it looks like it at least. In the 5th episode of Action's 'Fuck, That's Delicioius!', Bam Bam hits the Big Easy for some lamb necks and alligator. Yum.
What do you get when you cross a lamb neck with a fan boat and blues guitar legend? You have the fifth episode of Fuck, That's Delicious, which takes us to New Orleans. Action Bronson had some down time between touring and recording his upcoming album, so he decided to recharge by sampling some of the Big Easy's more contemporary culinary offerings and hearing some blues firsthand. As always, Bam Bam zeroed in on the finest fried chicken at Willie Mae's Scotch House, the best sandwiches at Coquette, late night fare at Mimi's and a cooking lesson from the most dynamic chef in the city, Isaac Toups, of Toups' Meatery. If all this wasn't enough, we managed to see some gators in the flesh and witness The Little Freddie King Blues Band do their thing. Enjoy.
Bonus:
Action is back in the kitchen cooking up marvelous shit. In his latest episode, he whips up his favorite dish, Börek.
After watching this how-to video on borek from the defacto Albanian food ambassador himself, Action Bronson, you're gonna be making Albanian dishes left and right. Watch as Mr. Wonderful and his aunt teach you how to make borek, a stuffed puff pastry pie of sorts that she fills with sauteed ground beef and onion. This recipe is so good, you'll want to call him BamBamBoreklava. Enjoy.
Episode 4:
Taking it back to Queens, pizza and baklava make this appetite complete.
Watch Action Bronson take us on one of the most unreal, out of bounds New York City food tours that's ever been committed on film. Mr. Wonderful allowed us access to ground zero for production, cooking with his aunt in her kitchen, and an exclusive tour of Kew Garden's legendary pizza parlor, Dani's House of Pizza. As if all of this wasn't enough, Action made his milkshake dreams come true by visiting dessert iconoclast, Christina Tosi, and her famous Milk Bar bakery to transform his aunt's homemade baklava into a milkshake. We finished up our New York adventure with a smorgasbord of Korean fried chicken and White Castle cheeseburgers.
Episode 3:
White trash bruschetta and Henny wings sound good right about now. But to get a taste, check out episode 3 of Action's webseries.
Action Bronson tours the UK often, so you know a Fuck, That's Delicious in dear Old Blighty was coming sooner or later. Mr Wonderful out does himself by exposing the masses to everything from char siu bao (chinese bbq pork buns) to his own concoction "white trash bruschetta" using Liverpool's favorite dish, scouse. Action does not stop there, he even found time to make chicken wings in the style of the renowned Dallas BBQ after a show. Our UK jaunt comes to close with some Nigerian home cooking on the outskirts of London. Enjoy.
Episode 2:
With his brother out on bail, Action's back for episode two. Watch as cameras follow him, Meyhem Lauren, and Retchy P to eateries in Miami, Georgia, North Carolina, and Pennsylvania.
Episode 1: 
Action Bronson has an appetite for destruction and the Internet. Today, MUNCHIES debuted his web series,"Fuck That's Delicious".  It's probably better to watch this on a full stomach.