VH1 Hip Hop Honors: Lil' Kim, Missy Elliott, Salt-N-Pepa & Queen Latifah
July 12, 2016 @ 8:38 AM EDT
General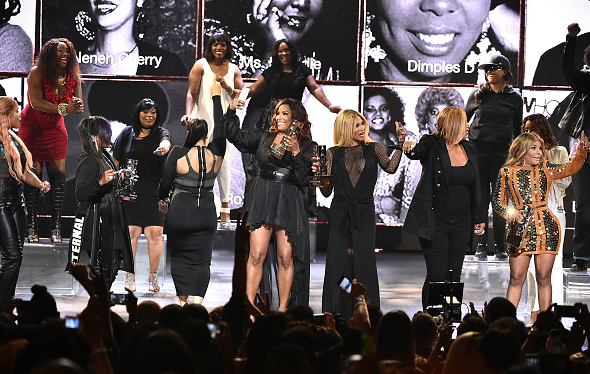 U.N.I.T.Y
VH1 brought back the Hip Hop Honors last night at the Lincoln David Geffen Hall at Lincoln Center in New York City honoring the ladies in hip hop. Among the honorees included Lil' Kim, Missy Elliott, Salt N Pepa and Queen Latifah. Check out their performance and tributes below.
Remy Ma, Nelly Furtado, Eve and Trina perform a medley of 'Work It,' 'Get Ur Freak On,' 'Hot Boyz,' 'One Minute Man,' 'Lose Control' and 'WTF' alongside dancers to tribute Missy Elliott.
Remy Ma and Fat Joe perform their latest hit song, 'All The Way Up,' at VH1 Hip Hop Honors.
Keke Palmer, Ashanti and perform Salt-N-Pepa's iconic hits 'Shoop,' 'Whatta Man' and 'Push It' at VH1 Hip Hop Honors.
Lil' Kim performs her hits "Big Momma Thing," "Queen B" and "It's All About the Benjamins" with The Lox.
Lil Mama, Teyana Taylor, French Montana and The Lox tribute Lil' Kim with performances of her hits 'Crush On You,' 'No Time' and 'All About The Benjamins.'
Queen Latifah performs some of her hits, including 'When You're Good to Mama,' 'Come Into My House,' 'Had It Up 2 Here,' 'Monie In The Middle' and 'Ladies' First,' featuring Rah Digga, Lady of Rage, Da Brat and Yo Yo.
Queen Latifah, Yo Yo, Monie Love, Da Brat, Ms Jade, MC Lyte, Lady of Rage, Suga T, Rah Digga, Mia X, and Eve perform Queen Latifah's hit "U.N.I.T.Y." to close out