2 Chainz: Most Expensivest Shit
December 20, 2016 @ 1:23 PM EDT
General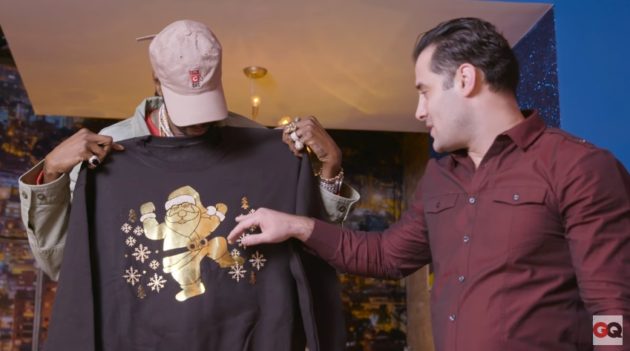 Santa, Baby
For a good cause this holiday season, 2 Chainz taps jeweler Joe Avianne of Avianne & Co to ice out the rapper's signature Ugly Sweater. Worth at $90K, the garment will be auctioned off with all proceeds going to the TRU Foundation.
Previously:
2 Chainz continues his 'Most Expensivest Shit' over at Pacific Sporting Arms to check out pricey rifles including a 4 piece set costing $354,000. Bang Bang.
Although our preference is black coffee, no sugar and no cream, 2 Chainz prefers a cup of Kopi Luwak. The coffee is made from cat feces from a $6,000 brewer which costs $600 per pound. Enjoy.
In the latest episode of GQ's 'Most Expensivest Shit', 2 Chainz hits West Coast Customs to check out Shaquille O'Neal's $250,000 convertible and a replica of the Mustang from Gone In 60 Seconds.
Chainz puts on his game face and tries on a pair of $48,000 shades on the latest episode of Most Most Expensivest Shit.
For the latest episode of GQ's 'Most Expensivest Shit', 2 Chainz gets high off a half of million dollars worth of weed, bongs and daps.
2 Chainz and GQ are back with a new episode. In honor of Kobe's final game tomorrow, 2 Chainz tries on two limited edition New Era hats including a purple cashmere fitted ($24,000) and a black lambskin fitted ($38,000), in honor of Black Mamba's retirement.
In GQ's new episode, 2 Chainz visits British luxury furniture designer Christopher Guy and tries out a $14,000 hand-carved mahogany chair.
2 Chainz recently took his lavishing cravings over to West Coast Customs auto-shop for some tricked out whips. During his fixings, the rapper comes across a $500,000 DeLorean.
More than likely, 2 Chainz has a closet full of eye wear to choose from. So in GQ's new episode of 'Most Expensivest Shit', he and Diplo feast their eyes on a $48,000 16-carat pair of shades.
2 Chainz hops on the good foot and checks out the world's most expensive shoes. Price tag? $2 million.
Sure, he has two iced-out necklaces, but 2 Chainz is seriously lacking in the diamond shoe department. The rapper meets up with jeweler Jason of Beverly Hills to check out a pair of $2 million diamond-studded smoking slippers
2 Chainz' face says it all. In the latest episode of GQ, he and Jhene Aiko see what their future holds during a visit with a psychic and tarot card reader.
Along with French Montana, 2 Chainz tries to make a deal on a giraffe, two parrots, and a monkey. Welcome to the jungle.
2 Chainz takes his love for smoking herb to a whole new level, but it's pretty pricey. Says GQ:
2 Chainz is a self-described "casual smoker," but when he's presented with the opportunity to smoke out of the "Picasso of bongs" what do you think he's going to do?
On this episode, 2 Chainz and Diplo sample a variety of water, including a $100,000 bottle. So much for Poland Spring.

Says GQ: Chainz really likes dogs, but would he actually drop 100 stacks on a puppy? Maybe—if it knows how to bathe and feed itself and it'll live forever. See what happens when the rapper visits a bulldog breeder who charges top dollar for premium pupsspan
Drinks are on the house as 2 Chainz and Big Sean try the world's most expensive vodka. $100,000? Expensive taste indeed.
GQ and 2 Chainz is back with another season of their Most Expensivest Shit as 2 Chainz and Dr. Dina smoke their weed out of rolling papers made out of 24K of gold.
Bullets ain't got no name. And for $15,000 for this suit, you can avoid them too. Here's 2 Chainz trying out the bulletproof garment tailored by Garrison Bespoke.
In the latest episode, 2 Chainz tries the world's most expensive ice cream at Serendipity 3. The Golden Opulence Sundae will set you back $1,000.
Continuing GQ's 'Most Expensive Shit', 2 Chainz checks out a $250,000 speakers. Luckily for him, it came in his favorite color black and gold.
In the latest episode of GQ 'Most Expensivest Shit', 2 Chainz tries out the most expensive toothbrush ($5k) in the world. Say Ah!
Got $25,000 for a night? Well 2 Chainz continues to explore expensive taste by touring the Jewel Suite at NYC's Palace Hotel. Below he gets tailored made at David Lance.
In the recent episode, Chainz visits Worth & Worth hat shop and dons a $25,000 Panama fedora. Hats off.
In his music, 2 Chainz is one of the most extravagant rappers in the game. So with a hankering for the finer things in life, GQ launched a series with Chainz interacting with the some of the most priciest things on the planet. In the clip above, he takes a bite out of a $300 cheeseburger. Below that, he checks out some foreign wheels and a set of $50K headphones.