Drake 'Scorpion' Tops Billboard Charts
July 8, 2018 @ 12:51 PM EDT
General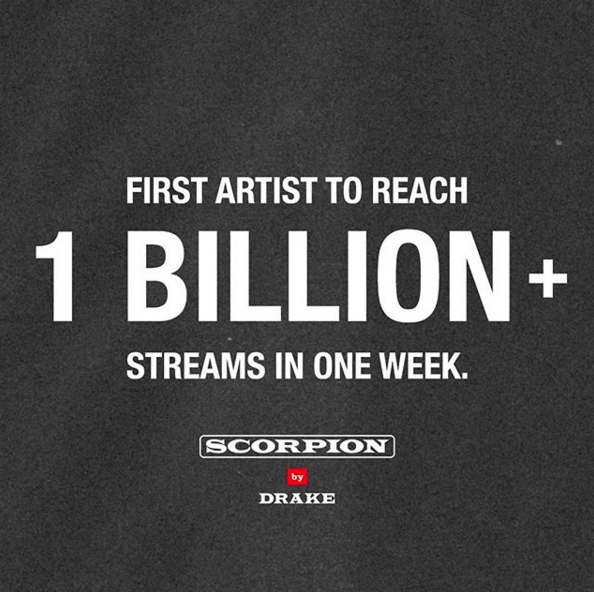 A Billie
Drake is back on the top of the Billboard 200. This week, The Boy's fifth solo album, Scorpion earned him his 8th consecutive number one debut, which now ties him with Eminem and Kanye West with the second most number one albums by a rap solo artist (JAY-Z with 14).
In its first week, Scorpion sold 732,000 units and gained 745.9 million streams in the U.S. alone. As the first artist in music history, Drake collected billion streams worldwide in its first 7 days.
A week ago, Scorpion surpassed 300 million streams on its opening day (June 29). It broke the record for most streams in a single day on Apple Music with 170 million streams (previously Drake's More Life from last year) and placed all 25 songs on the Apple's top songs chart. In addition, Spotify's 132 million streams from last Friday also broke their opening day record as well (previously Post Malone's Beerbongs & Bentleys).
This week, the double-album also makes Billboard history with the most singles simultaneously in the top 10 of the Billboard 100 singles chart with a total of 7. Drizzy has now broken the record of 5 by The Beatles, which has not been broken since 1964. Whew! Congrats!
No. 1, "Nice for What" (No. 6; eighth week at No. 1)
No. 2, "Nonstop" (debut this week)
No. 4, "God's Plan" (No. 9; previously spent 11 weeks at No. 1)
No. 6, "In My Feelings" (debut this week)
No. 7, "I'm Upset" (No. 26; previously reached No. 15)
No. 8, "Emotionless" (debut this week)
No. 9, "Don't Matter to Me," featuring Michael Jackson (debut this week)