God. Damn.
Whenever Kendrick Lamar drops a body of work it's sure to create cultural Tidal waves. However, the multifaceted rapper has so many layers you never quite know which Kendrick you're going to get. Admittedly so, I'm not a big fan of 'Coltrane Kenny' who was the representative of his last album TPAB, but enter his fourth and new studio album; Damn. The legendary DJ Kid Capri introduces us to "Kung Fu Kenny", a more aggressive moniker that holds no punches. As always he's conscious of his people and systemic oppression, but this time around it feels more personal. Kendrick exposes his vulnerabilities as a man, as a black man, and as an artist.
Never chalk up anything to coincidence when analyzing the specter of Kendrick Lamar. Releasing the project on Good Friday shows how committed he is to delivering his message, and how important the religious undertones are to this body of work. Damn seems to reach the perfect medium between pushing the eclectic envelope and the gritty street kid from Compton that will unleash God level bars on a moments notice.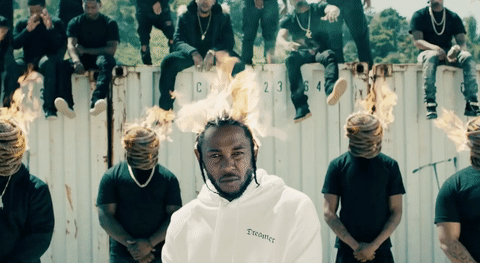 Before even listening to the project I was drawn in by the track listing. Every song being one word and ending with a period was intriguing. When you analyze the songs you see multiple juxtapositions. Kendrick seems to want you to listen in couplets, from "Blood" to "DNA", "Pride to "Humble", "Lust" to "Love", etc.
As soon as you hit play Kendrick takes you on a journey. The introductory track "Blood" sets the tone for the entire project. The first words uttered are a recurring theme, "Is it wickedness?…Is it weakness?…You decide". "Blood" describes the story of a blind woman whom Kendrick sees struggling, and decides to reluctantly help. When he does, this mystery woman shoots and kills him. Was his death a result of weakness in himself for always extending a helping hand, or the wickedness of the shooter?
Mike Will Made It left his imprint with standout production throughout the album. "DNA" hits hard while Kendrick raps, he has "Loyalty & Royalty inside his DNA". Showcasing his knowledge of self, Kendrick understands where his ancestors come from; a descendant of African kings and queens. Also imbedded in his DNA is "pain and poison". Kendrick has inherited both positive and negative attributes from the ones that came before him. It is here where he introduces proactively dealing with a generational curse. DNA is also an important track because here lies the birth of Kendrick's first religious undertone. "I was born like this, since 1 like this//immaculate conception". Kendrick likens himself as the proverbial savior of rap and of the black diaspora.
With another Mike Will assist, Kendrick's lead single "Humble" shot up to #2 on the Billboard Hot 100. Humble really bangs, whether in headphones, at the function, or in the whip. This gritty record takes aim at the competition and serves as the antithesis to the former track "Pride". Wrestling with pride Kenny states "I can't fake humble, just cuz your ass is insecure". Proverbs 18:16 says, "Pride comes before the fall" and Kenny is well aware of it.
Kendrick gives you a little bit of everything on this album. Tracks like "Element" and "Feel" give you context to his mental state. Kendrick states, "Aint nobody praying for me". Element is the aggressive Kendrick that I love; the Control Kendrick. He puts the entire rap game on notice that he will not hesitate to lyrically take anyone out. Taking subtle jabs at rappers (Big Sean, Jay Electronica) he vows a vast warning, if you say his name he will turn into Candyman. "Feel" is interesting as well. This track gives us a glimpse into how mentally fatigued Kendrick is with helping everyone. Continuing the religious theme he's done his best to take on the sins and bare the burdens of others despite no one reciprocating his actions. At this stage in the album Kenny is questioning who he can trust?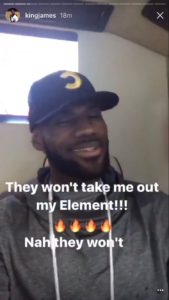 With only 3 features, all of which are totally different, you're not sure how everything will fit sonically. Rihanna, U2, and Zacari all seem to compliment the records well. "Loyalty" and "Love" are smooth radio ready tracks. Kendrick knows how to deliver commercial music without selling out to the status quo of "radio" sounds. You know you're special when you have Rihanna spitting dope bars on your track! "XXX" featuring U2 gives us a glimpse toward the duality Kendrick is wrestling with. A friend of Kendrick's, who son just died asks for prayers. As the anointed one, who generally delivers words of comfort he cannot bring himself to pray. "If someone kill my son, then someone getting killed" declares Lamar. Then, in the subsequent brief interlude Kendrick says he has to go to a gun violence rally HA!
The album even closes out in spectacular fashion. The track "Fear" exposes Kendrick's fears at 3 parts in his life. Despite being the savior he shows you the mental baggage he's carried at ages 7, 17, and 27. Kenny asks "Why God, Why God, do I gotta suffer" similar to Jesus Christ on the cross asking, "Why have you forsaken me". The final track "Duckworth" brings the entire story full circle. This is one of the best story telling tracks in recent memory. Kendrick shows how much the decisions you make impact the next generation. In a crazy fate kind of way, Kendrick's father and TDE president Top Dawg meet under unconventional circumstances. The decisions that both Top Dawg and Anthony did or didn't make have all led up to this present moment in time where Kendrick bears his success.
This album in totality is great! It's an amazing, and layered body of work. There hasn't been a project that has made me think this in depth in a long time. With an already amazing year for music Kendrick drops this masterpiece on us. I hate using the word classic, especially in less than a week, but this project definitely has the markings of what it takes. Only time will tell, but for now do your self a favor and listen to Mr. 1-5! Damn. is a solid 9.5/10
So is the project God Damn good, or nah?
@NajiChill