Migos vs Everybody At BET Awards 2017
June 26, 2017 @ 9:23 AM EDT
General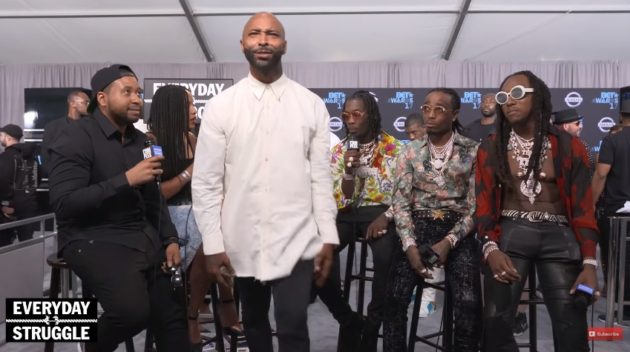 Migos Against The World
Not everything was celebratory at last night's BET Awards. Just ask Joey. In this portion of Complex' 'Everyday Struggle' episode on the red carpet, things got heated when Joe Budden abruptly walked off. According to him, his actions was justified due to his frustration on how the interview was going. Before things got physical, security quickly moved in. Says hosts Nadeska Alex, DJ Akademiks, and Joe Budden:
nothing staged. me and AK honestly couldn't hear anything they were saying. only unerstood it all watching the footage back https://t.co/gYECbKfZcX

— Nadeska Alexis (@neweryork) June 26, 2017
I promise I wasn't tryna play Takeoff .. man the red carpet Loud asf… no ear piece. Migos legendary tho.

— DJ Akademiks (@IamAkademiks) June 26, 2017
They was just a little too sassy for me that's all

— Joe Budden (@JoeBudden) June 26, 2017
Y'all think everybody with a song u like can fight lol

— Joe Budden (@JoeBudden) June 26, 2017

For the Migos, the drama did not end there. It was reported that Quavo and Chris Brown got into an altercation backstage. After the show, things got physical outside the venue between entourages from both sides. Can't we all just get along?